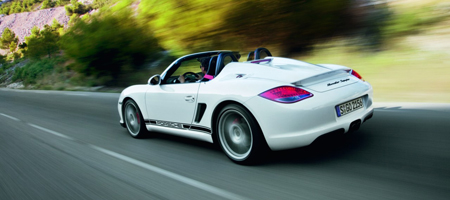 After the release of the 911 Sports Classic at Frankfurt we think it's fair to say that Porsche are getting a little nostalgic. The basis for their latest project is the 'entry level' Porsche Boxster, the inspiration is rooted firmly in the 550 Spyder, one of Porsche's most infamous sports cars. As a result, this Boxster recieves a number of weight saving measures as well as a completely new roof system, just in time for the end of year LA Auto Show.
The Spyder weighs in at just 1,275kg making it 89kg lighter than the Boxster S and 59kg lighter than the standard Boxster. As a matter of fact, the Boxster Speedster is the lightest Porsche in the product line-up. Much of the weight loss has been achieved through the new lighter roof material and a re-design.
As for power, the Porsche Boxster Spyder gains an extra 10bhp over the Boxster S bringing the total figure up to 320bhp. Needless to say, the model slots in above the Boxster and Boxster S, making it the flagship of the range. The dash to 100kph (62mph) is achieved in 4.8 seconds thanks in no small part to the PDK gearbox and Porsche's version of the launch control system seen in so many other high-end cars. It'll reach a top speed of 267kph (166mph).
As with all Porsche products, efficiency is top-notch. Fuel consumption is a mere 9.3 litres per 100 kilometres (30.4mpg) which makes the car a top performer in this category. Aerodynamic chages include a new spoiler as well as new body parts and special alloys.
Worldwide deliveries will start in February 2010, with the base Euro price set at €53,100. This means that the car will cost just €63,404 in Germany.