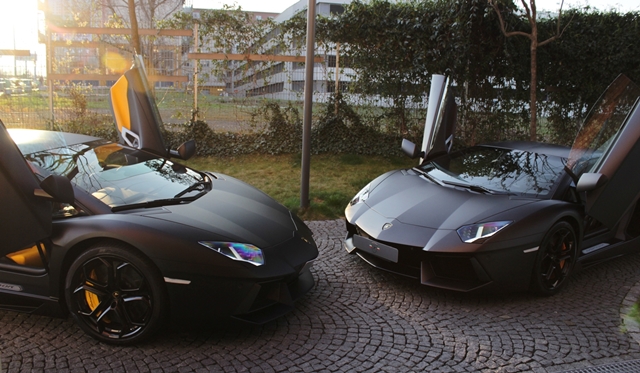 While London is littered with a huge amount of Lamborghini Aventador LP700-4s, there are just about a good dozen Lamborghini Aventador LP700-4s registered in Czech Republic.
Fortunately our friend Sam Marecek got the unique opportunity to shoot two of them, which are for sale at SF Motors in Prague. As you can see in the gallery below, both Lamborghini Aventador LP700-4 are matte. One of them is matte brown with orange details and brown and orange interior.
The second one is matte black with yellow details, carbon parts and is also equipped with a Capristo exhaust system. Additionally, SF Motors took Sam out for a little ride through the streets of the capital of Czech Republic which he captured on video and published on his youtube channel and facebook page.
[youtube]http://www.youtube.com/watch?v=Dkv63X03iww [/youtube]
Next to the two Lamborghini Aventador LP700-4, SF Motors offers a great selection of new and pre-owned supercars like a Bugatti Veyron Grand Sport, Porsche Carrera GT, a new Bentley Flying Spur, FAB Design SL65 Desire and some more.