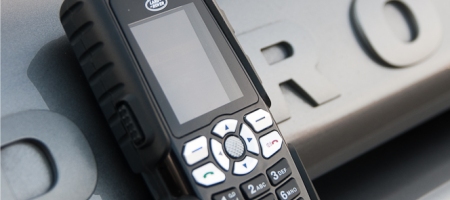 Topics on GTspirit are merely about supercars, special tuning packages or decent events. This time it is a bit different, because of a company called Sonim which developed a phone especially for Range Rover and Land Rover owners. The 'indestructible' S1 mobile is the first of a series of many ruggedized phones to come.
The Land Rover phone has been named the world's strongest phone ever build. It is able to survive being dropped from a tall building, kept under water or roasted in an oven. During tests the car maker ran over it with a Land Rover and submerged it in mud.
Due to its special IP- and MIL-certification it can withstand any terrible circumstance and if you break it within three years time you get a brand new one. That sounds like a deal!
Just to give you a small inside. The S1 features up to 1,500 hours of battery life, a 2.0 megapixel camera, internal GPS-receiver, memory card expansion slot and an extra loud ringtone to be heard over the sound of heavy machinery. The build-in Bluetooth connects to any Land Rover or Range Rover carkit.
The phone is available in selected countries at local Land Rover/Range Rover dealerships.