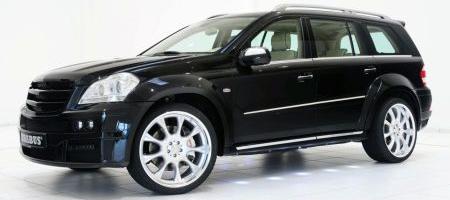 Brabus and Mercedes-Benz are probably one of the best couples in the automotive world. For almost every Benz you can get a Brabus kit. Their newest creation is the Widestar kit for the GL-Class. It is available for both petrol and diesel-powered models. The kit includes new LED daytime running lights, reviewed frontbumper, fog lamps and large air dams.
Besides that there's also a roof spoiler, new rear bumper and a set of customized stainless steel exhaust pipes. Brabus also tickered on the performance and sounds. Top of the range V8 petrol engine get's now 462bhp together with 615 Nm of torque that makes a sprint from zero to 62mph (100km/h) possible in under 6 seconds, which is impressive for the very heavy GL. Top speed is reached at 158mph (255km/h).
Because diesel engines are quite popular these days, Brabus developed a performance kit for them too. The GL 350 CDI gets a maximum output of 272bhp together with 590Nm and the GL 450 CDI gets a total of 350horses and 800Nm of torque. Sprint time to 62mph (100km/h) for these heavy diesel is just above 7 seconds. Possible top speed is 150mph (240km/h).
On the inside you'll get an enhanced interior with materials such as carbon fiber, Mastik leather and Alcantara; a 7-inch LCD screen at the back of each front seat; a DVD player and an on-board personal computer with a high-speed Internet connection. Last but not least, by the use of a Airmatic module, the Mercedes GL can belowered with 30mm to improve handling and looks.