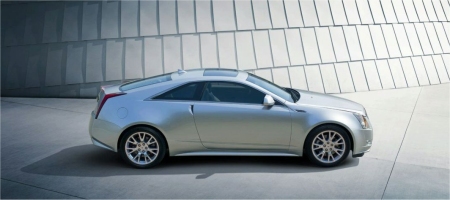 Cadillac has unveiled that the 2011 CTS-V Coupe will be availlable in showrooms in 2010, following the 'normal' version available in the Spring. The Coupe joins the 556-horsepower (415kW) CTS-V in the line-up of the American car maker.
The Coupe has a 2+2 layout including technology as a rear-view camera system and a performance-oriented suspension system coupled to rear-wheel or all-wheel drive. The wheelbase is the same as the CTS but 51mm lower and 51mm shorter. Options include a performance package with 18-inch wheels (or a summer tire performance package with 19-inch wheels), 14-way adjustable Recaro sport seats, a pop-up navigation system, 40-gig hard drive, Adaptive forward lighting system and a Bose 5.1 surround sound system.
The vehicle packs a supercharged 6.2-liter V8 engine, with 556 horsepower and 551ft-lbs of torque, the CTS-V Coupe should be able to accelerate from 0-60mph in around 3.8 seconds.
The picture only reflects the normal version and not the V-version which will have some extra decals indicating its a true performance sports car.