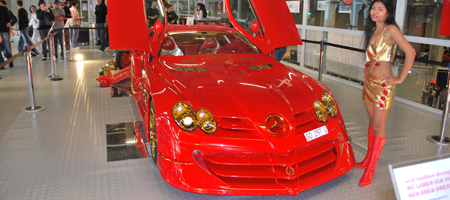 This was spotted at Auto Emotionen 2009 in the small Swiss town of Aarau. We didn't even know it was happening until we saw these pictures of what has to be, one of the worst tuned SLR's we have ever seen!
We've had a go at translating the companies webpage for you, a number of interesting claims came up. First of which is that a lot of the gold metal on the car is actual 24 carat gold. This includes the exhaust tips and the rims which are coated in the precious metal, among other parts. Theres 24 carat gold Anliker logos everywhere on the car, front spoiler and exhaust vents included.
As if that wasn't distasteful enough, apparently the name of the designer is embedded in Ruby somewhere in the car. You've probably already noticed the vulgar bodykit by now. It looks much worse than anything we've seen before from companies like FAB Design and even ASMA. The new 3 tier front spoiler extends the car's length further than anything we've seen before. Apparently this adds 100kg of downforce at 350kph. The boomarang style spoiler is also supposed to add 150kg at the same speed, the diffuser, 80kg.
The website also makes a brief reference to 1000bhp, however it also say's that this hasn't been achieving yet and there is in fact a lower state of tune for the car. Theres new LED's and a new interior as well. None of which we like… We could go on and tell you every small detail about the car but we'll save you from it.
The whole thing is estimated to cost around 5 million swiss francs (about £2.95 million or €3.32 million) which makes it the most expensive car that money can buy. If you bought it you probably wouldn't want to drive it. It's probably the least tasteful car ever as well…
Thanks to DarkSensation for pointing it out to us!
[Via Anliker]