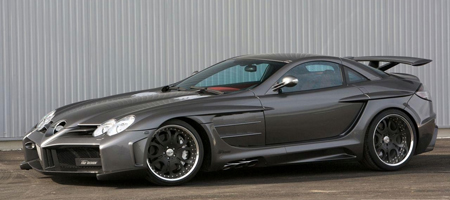 We have reported a lot on FAB Design's attempt to modify the SLR recently. To start with we showed you some spyshots from after it's aerodynamic testing, then we actually got to see the car close-up in Geneva. We are still not too sure on it, however, we have some interesting new details and the name "Desire" now.
The headline figures in our eyes are the power outputs of 750bhp and 1,080Nm of torque. This is 124bhp more than the standard car's 626bhp output and 300Nm more torque. Theres no official word on how the power hikes have been managed, however we suspect that the ECU has been tuned and the exhausts have been swapped for a set of high flow performance units.
0-62mph (100kph) is promised in 3.6 seconds and an electronically limited top speed of 193mph (310kph) is also made possible (probably limited by the spoiler). The body is made from the highest quality carbon fiber. It completely covers the body, from the new wide-body fenders to the reshaped front bonnet.
The most noticable thing about the car is the new rear end which dominates the car's silhouette. As you can see theres a new 'TV Ariel' style spoiler and a huge difusser to channel air out from under the car at high speed. Even though all this has been added, the car still makes use of the standard air brake assist we see in the standard SLR. The 20-inch FAB design rims are coated in Michelin rubber and the interior also sees a refresh.
There is only going to be 15 cars made and every one is accounted for already, wether thats good or bad, we will let you decide…