It was this time last year that we were out driving the Lotus Exige Sport 350. Fast forward 12 months and we're hearing about a new, faster version of the Exige; the 2017 Lotus Exige Sport 380! Building on the success of the previous models, the Sport 380 adds a wealth of additional parts and performance to give it the edge over its predecessor. It is the fastest Exige ever!
It is also the most aggressive Exige yet. The Exige was already an aggressive machine, making this a very bold statement indeed! Engineering improvements allow for a new 375 hp power figure from the 3.5 litre supercharged V6 engine. Peak torque is now 410 Nm at 5,000 rpm. The improvements came about as a result of the revised supercharger pulley, increased charge pressure, uprated fuel pump and recalibrate ECU.
The Lotus Exige Sport 380 gets a dry weight of just 1,066 kg with various weight reducing option boxes ticked. In this configuration, an impressive power-to-weight ratio of 352 hp per tonne is possible. Performance from 0 to 60 mph is 3.5 seconds with a top speed reaching 178 mph.
Power is routed to the rear wheels via a six-speed manual gearbox or an optional six-speed automatic gearbox. The Lotus Exige Sport 380 features the same impressive exposed-gear-change linkage as the car it replaces. It gets swathes of carbon-fibre components and Michelin Pilot Sport Cup 2 tyres as standard.
The weight shedding options include various carbon fibre components including a front splitter, revised front access panel, new rear wing and rear diffuser surround. Together, they save 2.7 kg. A lightweight, transparent polycarbonate rear window saves 0.9 kg. The carbon race seats (-6 kg), lithium- ion battery (-10.3 kg), ultra-lightweight forged wheels and grooved two-piece brake discs (-10 kg) combine to cut a massive 26.3 kg. New rear light clusters save a further 0.3 kg.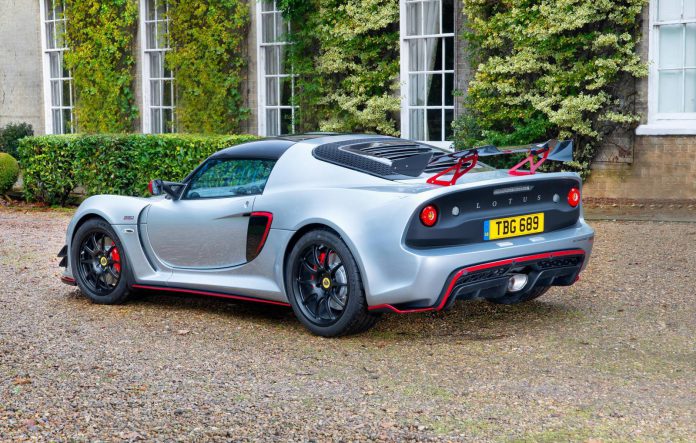 Strangely, despite the focus on weight, the Lotus Exige Sport 380 comes with an enlarged, 48-litre petrol tank. The Lotus Exige Sport 380 is available as a roadster as standard and as a coupe as an option. The price is £67,900 in the UK or €89,900 in Germany.