Novitec have today announced their package for the McLaren 570S. On the same day as the manufacturer itself announced a new Track Pack, Novitec's package provides a viable option for those that want something a little different. As an added bonus, Novitec offer some substantial performance upgrades with their package!
To start with the engine. McLaren's 3.8 litre twin-turbocharged V8 has been improved with a three stage mapping program. In the most powerful performance stage 2, a Novitec high-performance exhaust system comes as part of the package, resulting in increases of 76 hp and 92 Nm. Total figures are 646 hp at 7,450 rpm, and peak torque of 692 Nm at 6,250 rpm!
646hp Novitec McLaren 570S
The Novitec 570S sprints from zero to 100 km/h in just 3.0 seconds with a top speed increased to 335 km/h. Improvements to throttle response and in-gear acceleration are also on offer. Novitec exhaust systems with slanted tailpipes are available, finished in stainless steel or Inconel.
On the aerodynamic side of things, the Novitec McLaren 570S benefits from a new front spoiler lip, Novitec rocker panels and carbon air covers. The Novitec rear aerofoils complemented by carbon covers on the left and right of the rear bumper. The hood offers a new dual-branch air box that ensures an optimized airflow to the engine bay.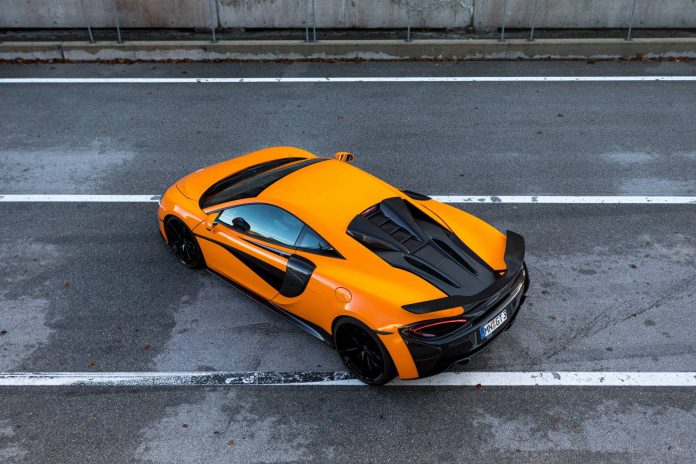 The wheels are Novitec MC1 wheels with five delicate double spokes, offered with a staggered combination of 9-inch and 11-inch rims. The front wheels measure 9Jx20 and are shod with high-performance tires measuring 235/30 ZR 20. The rear axle sports size 305/30 ZR 21 tires on rims of size 11Jx21. The Novitec McLaren 570S sits 30 millimetres closer to the ground.