The McLaren 570S has been a resounding success, that much is for sure. Since launch, the range has expanded with the McLaren 540C and McLaren 570GT expanding the range. Options lists have also expanded and now, available exclusively for the McLaren 570S, we have an optional Track Pack!
Adding some choice upgrades to the standard package, the McLaren 570S Track Pack provides a more hardcore experience than the standard model. The 570S Track Pack gets an Alcantara upholstered interior, carbon-fibre racing seats, track telemetry app, super-light alloy wheels and a new extended rear wing.
The Track Pack is designed for customers who occasionally venture onto the race track. It aims to provide some useful extras without compromising the everyday usability of the 570S. It benefits from additional downforce and lightweight features. The Track Pack is said to be inspired by the GT3 and GT4 cars McLaren currently offers.
The rear wing is 12mm higher boosting downforce by an additional 29kg at 150mph. The rear wing is coupled with a McLaren Special Operations roof finish in Dark Palladium, and stealth-finish Sports exhaust.
In total, the Track Pack sheds 25kg over the standard McLaren 570S. The weight loss comes courtesy of a lightweight interior package with Alcantara replacing leather for the seats, dashboard and steering wheel covering. Carbon-fibre racing seats complete the package inside while lightweight alloy wheels also assist with the weight loss outside.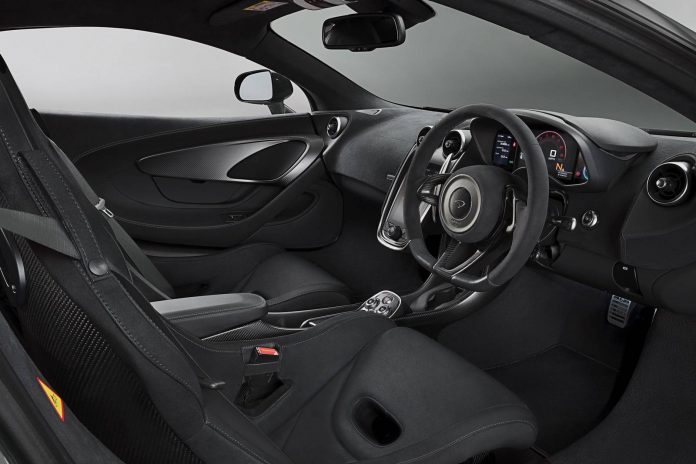 The McLaren 570S Track Pack gets the same mechanicals including the 3.8 litre V8 engine with 570 hp. The 0-124 mph sprint takes just 9.4 seconds and a 204 mph top speed is possible. The McLaren Track Telemetry system is also available, lifted straight from the McLaren 675LT and McLaren P1. The system provides real-time information, such as lap times, sector splits and comparisons between drivers, as well as post-drive analysis and data-logging with graphical plots of vehicle speed and lap-time deltas. Naturally the Track Pack also retains the existing car's standard carbon-ceramic discs.
The McLaren 570S Track Pack is available to order now with deliveries beginning in early 2017. The option is priced at £16,500.