Is there a more insane concept than a road-legal Maserati MC12 Versione Corsa? Short of an LMP1 or Formula 1 car, we suspect not! What you are looking at here is not one of the dozen MC12 Versione Corsa's built to compete in FIA sanctioned events, instead, it is a 2014 Maserati MC12 road car converted by Edo Competition to look just like the successful racer whose DNA it shares!
Race cars are of course made for the track and road cars for the road. Applying this principal, Edo Competition have announced the construction of a Maserati MC12 Versione Corsa, in partnership with the Maserati factory in Italy. The officially sanctioned project converts a standard MC12 into a Versione Corsa lookalike. To avoid confusion, this car will be referred to simply as the Maserati MC12 VC.
Its not the first time Edo Competition have modified an MC12. Back in 2005, the German tuning firm managed to convert a genuine MC12 Versione Corsa into a TUV registered road car. As impressive as that car was, with race car mechanics and uncompromising components, it probably wasn't a whole lot of fun to drive in traffic. The MC12 VC promises to deliver on comfort.
Maserati MC12 VC by Edo Competition
Only slight deviations were made from the body panels of the original MC12 Versione Corsa. As a result, the MC12 VC looks almost identical to the race car. Naturally, the chassis required some modification with a lifting system for the front and adapted body height, together with individually adjustable dampener and spring rates. A fan supported water cooling system has been installed at the front.
Edo Competition fit a sports exhaust system with flap system and noise control to comply with noise emission limits. The fuel system is regular rather than the high pressure version found on the race car. Street wheel and tire combinations, road compliant lights and door locks also make the MC12 VC more useable.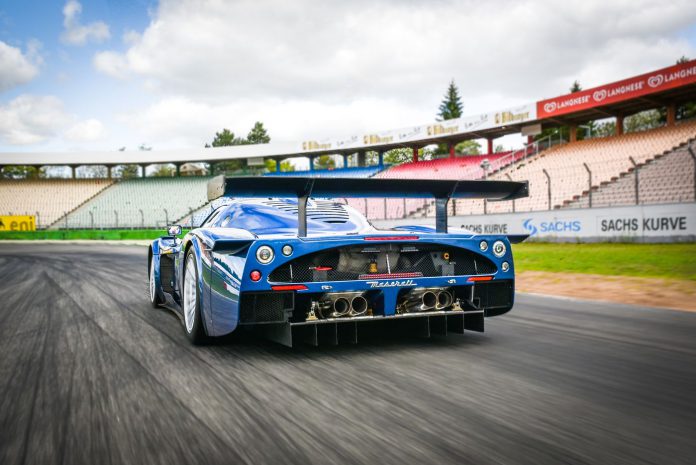 The engine is suitably uprated. The 6.0 litre V12 packs 755 hp at 8,000 rpm together with 740 Nm of torque at 5,500 rpm. 0 to 100 km/h should be possible in 3 seconds whilst 0 to 200 km/h is likely to take 200 km/h. The MC12 VC weighs just 1,250 kg.
All in, it was a 7-month development and rebuilding process which saw the 'victory blue' MC12 transformed. The Maserati MC12 VC was fetled at the Hockenheimring by none other than Michael Bartels, multiple FIA GT champion. If you want to take a look at the Maserati MC12 VC, it is currently on display at the Maserati Museum in Modena.