McLaren gives us a glimpse into the insane McLaren P1 GTR workshop in their latest photo release. Most of the McLaren P1 GTR's have already been built and customers have been receiving their cars recently. The photo reveals the variety of McLaren P1 GTR colour schemes that have been specified.
The yellow and green prototype car is the one we recognise the most. There is another GTR which looks similar to the FINA liveried GTR's. Other than those two, customers seem to have chosen some very unique colour schemes. There is a Papaya Orange car, a Silver and Black car and a white and blue car among the group.
Our favourite is the McLaren camouflage example which features a blue base coat and outlines of famous race tracks in black. The design was used on both the McLaren 12C and the McLaren P1. It looks excellent on the most extreme McLaren of them all!
The McLaren P1 GTR is sold out and we expect approximately 40 to be built. In the same vein as Ferrari's Corsa Cliente, McLaren will be running P1 GTR events at tracks all over the world. Owners will get training its in fitness and nutrition as part of the purchase as well as one-to-one trackside tuition for those who want it.
The McLaren P1 GTR gets an increase in downforce, track specific tyres and a 50kg; coupled with the power gain, the P1 GTR is a completely different animal to its road going counterpart. With 986 bhp a 0-62 mph time of less than 2.8 seconds is a virtual certainty with a top speed in excess of 200 mph!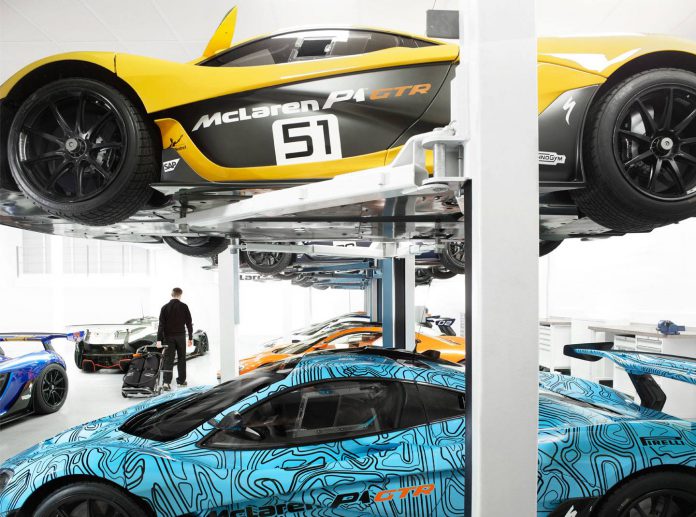 To see more about the P1 GTR workshop, visit the McLaren Automotive website.