One of the biggest classes at Salon Prive 2015 is the Gentleman GT Drivers class. The seven entrants in this class make for a stunning spectacle.
The Bizarrini 5300 GT Strada is one of 133 built after the Italian designer left ISO. The Italian brand created the Strada as a road legal version of Grifo A3C race car, a car which competed in the 1964 and 1965 Le Mans 24 hour, 1965 Nürburgring 1000 and 1965 Sebring. It uses a Chevrolet small-block 327 Corvette engine with around 385 hp and a four-speed manual transmission.
The Ferrari 275 GTB/4 is another of the entrants in the Gentleman GT Driver's class. It was the first Ferrari to not be offered with wire wheels when it was unveiled at the Paris Motor Show in 1966; 2 years into the 275's four year production run. It features a 300 hp 3.3 litre V12 four-cam engine and a 165 mph (266 km/h) top speed.
The Porsche 2.7RS is probably the newest and most mainstream model in this class. Porsche initially planned to build just 500 units for group 4 homologation requirements. Instead, demand increased the production run to 1,080 units. The ducktail has become legendary and the car has a reputation as a real drivers car. This particular example is an early version constructed from lighter, thinner-gauge steel.
The Aston Martin DB4 GT is one of 75 lightweight, high-performance versions of the DB4. They were available with either 3.7 litre or 3.8 litre engines producing approximately 300 hp with 85 kg less weight than the standard DB4. At the time the Ferrari 250 SWB was Aston Martin's biggest rival. The DB4 GT was a direct competitor.
The Ferrari 250 GT Berlinetta SWB is chassis number 3087GT is a Lusso version of the famous racing Ferrari. As a lusso car, it features a fully trimmed interior, softer springing and steel body as opposed to the competitzione lightweight aluminum-alloy bodied cars. RM Auctions sold it last in Monterey back in 2008 for the staggering price of $4,51 million. Since then it has been repainted to grey.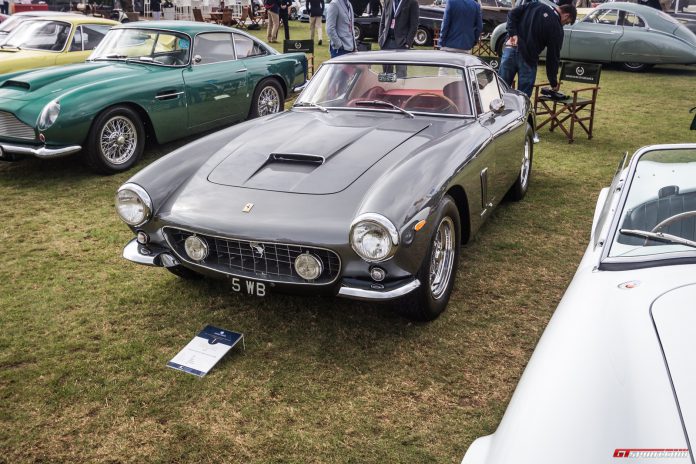 There is a 1965 AC Cobra 289 Roadster, one of a number of European specification cars built by AC cars in England. The Cobra chassis' were usually built by AC Cars in England before they were shipped to the US and finished by Shelby American. A run of cars were constructed for European marked by license from Shelby. This particular Cobra 289 Roadster features a Ford-sourced 4.7 litre V8 with 271 hp and was sold new by Guy Salmon Ltd in Portsmouth.
The final entrant is a 1958 Ferrari 250 GT Berlinetta Tour de France, designed by Pininfarina. One of eighteen 3-louver, covered headlight Tour de France cars, chassis number 0787 GT has a prestigious history. It finished fourth overall in the 1958 Mille Miglia and enjoyed a class win at the Modena Aerautodromo during the same year. It features a 240bhp, 2.9 litre, overhead camshaft alloy block and head V12 engine with a four-speed gearbox.