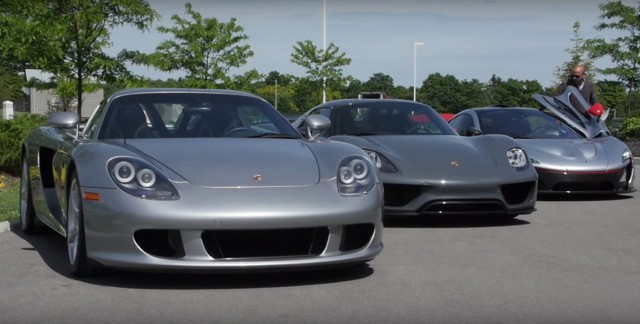 A very fortunate car enthusiast in Canada recently took delivery of a McLaren P1, Porsche 918 Spyder and Porsche Carrera on the very same day!
While we've seen a number of other collectors purchasing the P1, 918 and Ferrari's rival, the LaFerrari, the following owner evidently chose a Carrera GT over the Italian hybrid hypercar. While the Carrera GT certainly isn't as fast as the LaFerrari, its 5.7-litre V10 engine produces a howl the Ferrari's V12 can only ever dream of matching.
[youtube]https://www.youtube.com/watch?v=tzbhZPXDjF8[/youtube]
The keys to the three incredible supercars were handed over by Pfaff Automotive at a private track day organised for the owner. Despite taking delivery of the trio on the day, the owner didn't hold back when he hit the track and ensured that the P1, 918 and Carrera GT were being driven exactly how they were designed to be.
On the spec sheet, here is how the three compare. The McLaren P1 features a 3.8-litre twin-turbocharged V8 engine mated to an electric motor delivering 903 hp in total. By comparison, the 918 Spyder's 4.6-litre V8 is joined with two electric motors pumping out 887 hp while the Carrera GT's 5.7-litre V10 produces 612 hp.