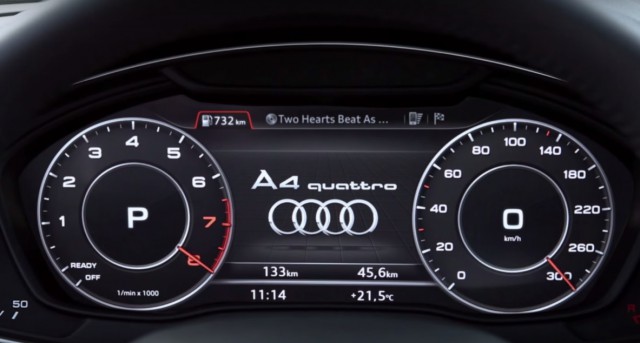 A couple months after the latest 2016 Audi A4 was unveiled to the world, the German marque has just released a video showcasing one of the key upgrades of the car; its advanced virtual cockpit.
[youtube]https://www.youtube.com/watch?v=xaeI2-RmWVw[/youtube]
Unlike its competitors the BMW 3-Series and Mercedes-Benz C-Class, the Audi A4 is the first car in the entry-level luxury sedan market to feature a completely digital instrument cluster. It is just like the virtual cockpit found on the Audi TT, Audi Q7 and Audi R8 and can be optioned by customers for a mere 500 euros.
Sitting in place of regular analog dials, the Audi virtual cockpit consists of a large 12.3-inch LCD monitor with a 1440 x 540 resolution. The virtual cockpit operates at 60 fps to ensure it provides owners with a seamless and exceptional smooth experience.
As the following video shows, the virtual cockpit can be customised by owners and can show music, navigation and vehicle details alongside the typical speedometre and rev counter.