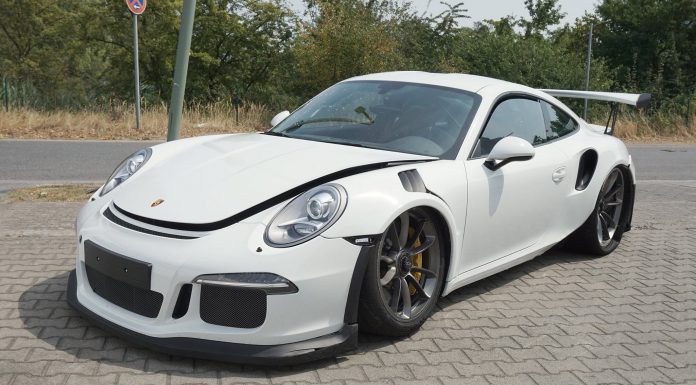 A few images have just surfaced online showing what is believed to be the very first 2016 Porsche 911 GT3 RS to be involved in a crash.
Details about the incident are sketchy including where it occurred. Due to the signs 'Crash Sportwagen' at the facility the GT3 RS is residing at however, it seems apparent that the crash happened somewhere in the vehicle's home country of German.
Whatever the case may be, the damage it has sustained is immediately obvious. Most significantly, severe suspension damage is visible at the driver's side front quarter as is a damaged bonnet. Elsewhere, the passenger side rear wheel is bent out of shape and alignment while damage to the rear fascia and lip is also apparent.
Additionally, these images show burn marks on the rear indicating that following the crash, the sports car caught fire momentarily.
It is reported that the young nephew of the owner was behind the wheel at the time of the crash.
Rather incredibly, the owner is attempting to sell the car at an undisclosed price.