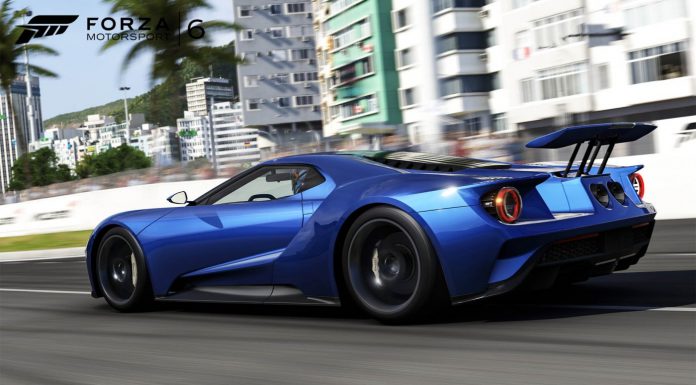 Despite being unveiled over eight months ago, Ford has yet to fully detail the latest-generation GT supercar. Now thanks to Forza Motorsport 6 however, we've been given a glimpse at one of the hidden features of the car; its active rear wing.
[youtube]https://www.youtube.com/watch?v=aIgDw3qTzsA[/youtube]
It was previously confirmed that the 2016 Ford GT would feature active aerodynamics but it wasn't known just which components would feature active aero. Pictures and gameplay footage from Forza 6 reveal that the active rear wing will be able to automatically adjust its position depending on driver input while also altering its angle and pitch. Like the McLaren P1's rear wing, the wing of the GT will also act as a massive air brake.
If for some reason you didn't know, the 2016 Ford GT features a 3.5-litre twin-turbocharged EcoBoost V6 engine promising to deliver over 600 hp. While final horsepower and torque figures have yet to be released, the new engine is guaranteed to provide significantly more performance than the 5.4-litre supercharged V8 of the previous-generation Ford GT.