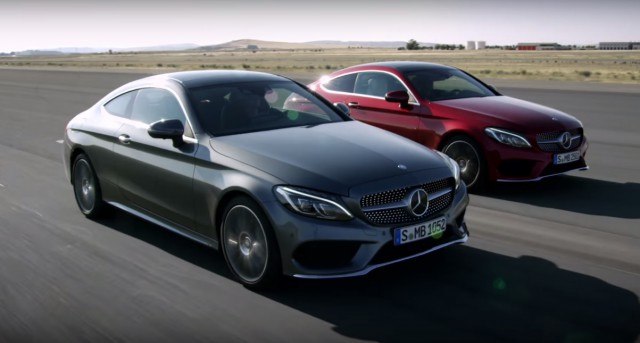 The official trailer for the long-awaited 2016 Mercedes-Benz C-Class Coupe has just been released. Showing the car in all its stylish glory, the video may only be short but it does highlight some of the vehicle's most important design traits.
[youtube]https://www.youtube.com/watch?v=8OYyp3Udi64[/youtube]
Thanks to a multitude of spy shots being released recently, we already had a fair idea of how the new C-Class Coupe would look. Generally speaking, the new C-Class Coupe is 95 mm longer and 40 mm wider than the outgoing C-Class Coupe while the roof has also been dropped dramatically to give the C-Class Coupe a similar profile to the larger S-Class Coupe.
From the front, everything is standard C-Class with a prominent chrome grille as well as large air intakes and an eye-catching splitter. It is at the rear where most the changes are present. They include taillights reminiscent of those from the S-Class Coupe as well as a refreshed rear bumper and diffuser setup. A subtle bootlid lip spoiler is also featured near the steeply raked rear window.
As it stands, the German marque has only revealed the C-Class Coupe in C300 specification in both rear-wheel and all-wheel drive configurations. The C300 Coupe utilises a 2.0-litre turbocharged four-cylinder petrol engine delivering 241 hp and 273 lb-ft of torque. While it is the only model introduced thus far, we expect the C-Class Coupe range to be available with the same selection of engines as the C-Class sedan and estate models.