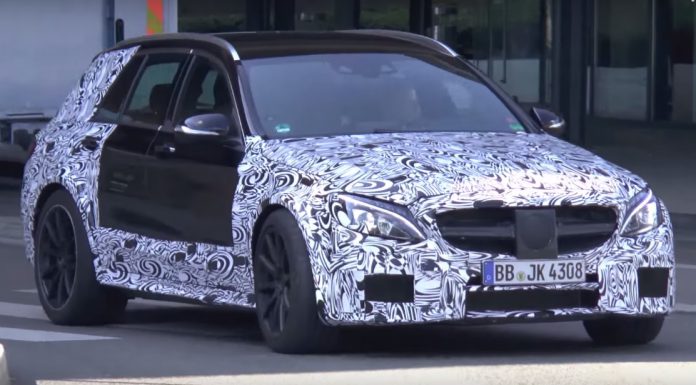 A mysterious Mercedes-AMG C63 Estate has just been filmed in the midst of testing. Considering that the C63 Estate was unveiled in its latest generation guise last year, it is difficult to determine just what the German marque has up its sleeve.
There is a strong possibility that it is a mule for an even more hardcore version of the German sedan. A key giveaway of this is that it features aggressively flared front and rear wheel arches even wider than those on the standard C63 sedan and estate models. Alongside the wider arches, we can also see a wider set of wheels and tyres. Elsewhere, it appears as though this test mule features modified suspension with it sitting very low to the ground.
[youtube]https://www.youtube.com/watch?v=8u5Cpb9uXJo[/youtube]
Last year, the German marque confirmed that no all-wheel drive version of the latest C63 AMG will be offered so the test mule featured definitely isn't testing such a system.
Consequently, there's a possibility that we could be looking at the first prototype of the Mercedes-AMG C63 Black Series which could be offered in estate guise for the very first time. If that is indeed what we're looking at then power from the car's twin-turbo 4.0-litre V8 will inevitably be lifted to over 503 hp and 516 lb-ft of torque. Consequently, a sprint to 100 km/h in less than 4 seconds is likely.