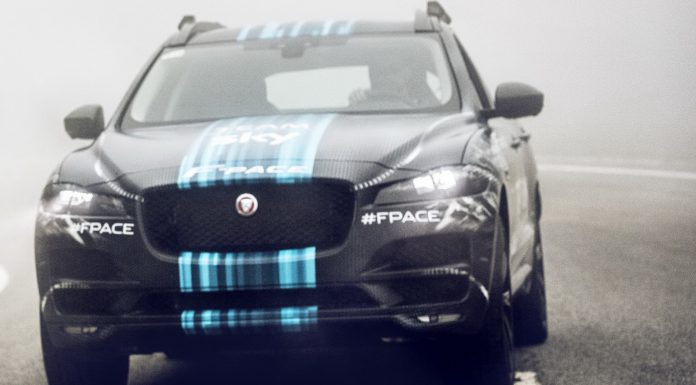 Jaguar has released a number of images showing off a lightly disguised Jaguar F-Pace prototype which will act as the official support vehicle of Team Sky at the Tour de France kicking off on the weekend.
It is quite surprising that Jaguar has decided to use the F-Pace as Team Sky's support vehicle considering the new sporty crossover hasn't even been unveiled in production guise yet. Nevertheless, the images do provide us with an in-depth look at previously unseen design features of the car.
At the front, the F-Pace features a bold bumper with split air intakes as well as a slimline lower grille. A characteristic Jaguar grille is also present as are lightly disguised headlights. The vehicle's black and blue livery has been design in such a way that it helps hide certain design elements of the car but overall, you're looking at the finished Jaguar F-Pace.
Beneath the skin, the road-going Jaguar F-Pace will ride on the same aluminum architecture as the XE. It will also be available with similar engines including a selection of petrol and diesel four-cylinders possibly utilising forced induction in the form of twin-turbochargers in top-specification. Thanks to the lightweight architecture, it is hoped the F-Pace will weigh less than the Porsche Macan, its main rival.