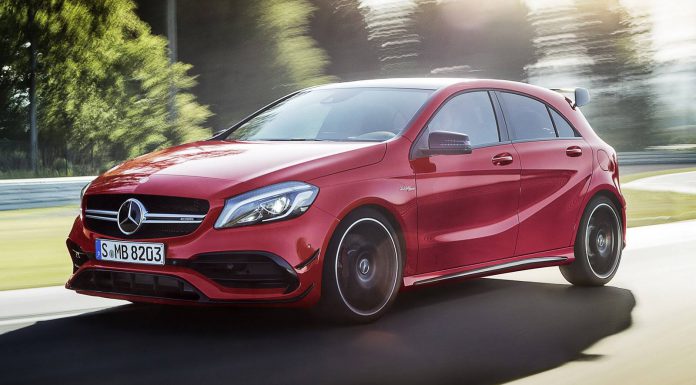 At the Goodwood Festival of Speed 2015, the 2016 Mercedes-AMG A45 has just been revealed. Featuring revised styling as well as more power than the outgoing car, the new A45 also reclaims its power title from the Audi RS3 Sportback. The hot hatch also receives a new name to reflect other current AMG cars.
Beneath the skin, the Mercedes-AMG A45 features the same 2.0-litre turbocharged four-cylinder as the current car. However, thanks to a reconfigured valve assembly as well as tweaked timing and turbocharging, an additional 21 hp has been achieved. That brings the total figure up to 376 hp with torque also reaching 350 lb-ft.
Thanks to the extra power, a revised 7-speed dual-clutch transmission and all-wheel drive, the facelifted A45 accelerate to 100 km/h in 4.1 seconds. That is 0.1 seconds quicker than the 2015 Audi RS3 Sportback and 0.4 seconds brisker than the old A45 AMG. Despite the added performance, the hot hatch still sips just 6.9-l/100 km while the top speed remains electronically limited to 250 km/h.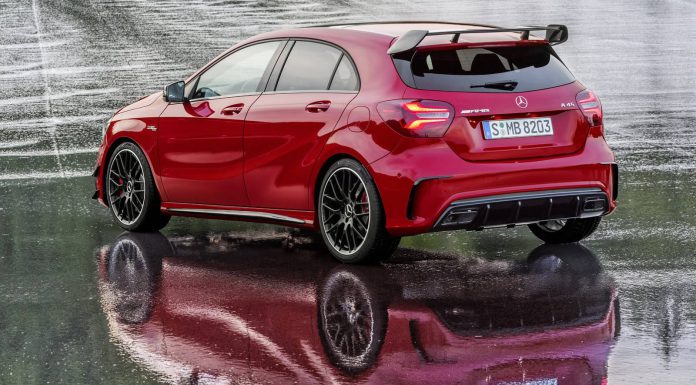 Elsewhere, a new AMG Dynamic Plus package is offered for the new car. It consists of a revised mechanical front locking differential designed to dramatically increase traction. An adaptive damping system is also included with it offering four driving modes.
From a visual and aerodynamic standpoint, the new car features two additional front bumper canards, larger air intakes, a new rear bumper and diffuser as well as a prominent roof-mounted rear spoiler.