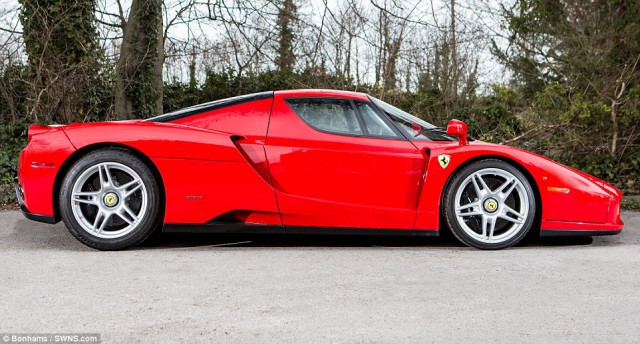 Earlier in the year, a London drug trafficker handed over four exotic cars to authorities after admitting they were purchased from the proceeds of his criminal activities. Fast forward to June and the four cars are set to soon go under the hammer at auction.
The cars set to be auctioned include a Ferrari Enzo, Rolls-Royce Phantom, Ferrari California and Ferrari 599 GTB. Before handing over these four cars to authorities, Alexander Surin had to return 1.5 million pounds from the sale of his fraudulently purchased Bugatti Veyron.
All told, the four models will bring in over 1 million pounds when they go up for auction. The Ferrari Enzo will inevitably sell for the most with conservative estimates suggesting it should sell for at least 800,000 pounds. Meanwhile, the Rolls-Royce Phantom should attract around 260,000 pounds, the Ferrari California about 143,000 pounds and the 599 GTB a total of 180,000 pounds.
The cars will be sold by Bonhams at the auction's house sale held at the 2015 Goodwood Festival of Speed 2015 later this month.
Alexander Surin was previously known as Michael Boparan and in 1996, he was jailed for five years in England after a 1.3 million pound bank fraud which saw him and he fellow gang members creating forged bank cards and stealing money from over 800 accounts. Previously, he was involved in a 105 million pound customs fraud case but that was ultimately dismissed in the Court of Appeal due to errors in the presentation of the case from the prosecution.
Surin is currently wanted by French police after being convicted of trafficking ketamine and is believed to be living in a lavish Dubai home within a gated community where houses reportedly cost upwards of 7 million pounds.