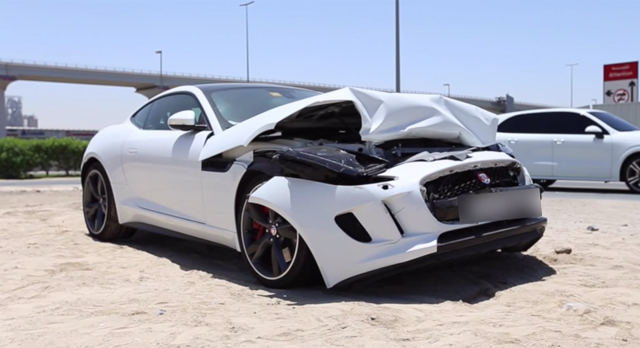 A stunning white Jaguar F-Type R Coupe has been extensively damaged after crashing in Dubai.
The British sports car was filmed abandoned on the side of the road where it was inevitably waiting a tow truck. While no details surrounding the crash are available, it seems apparent that speed was a factory as the automatic rear wing has been deployed.
[youtube]https://www.youtube.com/watch?v=RpmVkrUFyrw[/youtube]
As evidenced by the video, the F-Type R Coupe hit something head-on causing serious damage to the front-end. As a matter of fact, the bonnet has been completely crumpled while the front bumper has been almost entirely ripped off. Additionally, the impact was severe enough for the two front airbags to be deployed.
While the damage is certainly quite hefty, it will be repairable. Considering much of the F-Type R Coupe is made from lightweight aluminium however, the repairs won't come cheap.