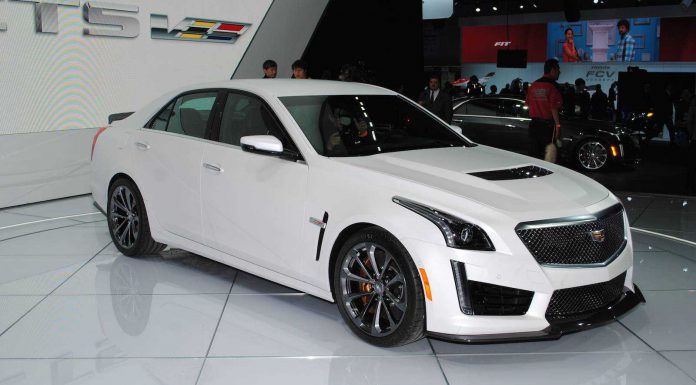 The potent 2016 Cadillac CTS-V and ATS-V have just been priced for the German market. Designed to rival the BMW M5 and M3/M4 respectively, the two American sports cars will help Cadillac with its aim to better rival BMW, Audi and Mercedes-Benz.
The range-topping Cadillac CTS-V will set German customers back a minimum of 98,500 euros when it reaches showrooms. For the money, customers get the same 6.2-litre supercharged V8 engine as the latest-generation Chevrolet Corvette Z06. Whereas the Z06 delivers 650 hp, the new Cadillac CTS-V pumps out 640 hp and 630 lb-ft of torque. By comparison, the outgoing CTS-V pumps out 556 hp. This engine is then mated to a paddle-shift eight-speed automatic transmission driving the rear wheels. With the launch control function enabled, the 2016 Cadillac CTS-V rockets to 96 km/h (60 mph) in just 3.7 seconds as well as a top speed of 320 km/h (200 mph).
Cadillac claims that the 8L90 transmission used delivers performance to rival the very best, dual-clutch transmissions alongside the smoothness and refinement of a conventional automatic complete with a torque converter.
As for the Cadillac ATS-V, the sedan starts in Germany from 74,900 euros while the coupe costs a little bit more at 77,500 euros. Power in the ATS-V is provided by a twin-turbocharged 3.6-litre V6 engine delivering an M3/M4 toppling 464 hp and 445 lb-ft of torque.