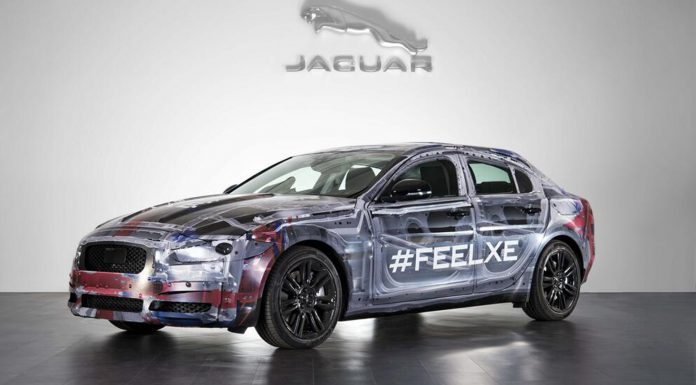 Prior to its expected world debut at the Paris Motor Show 2014 in October, Jaguar has dropped a new teaser image of its upcoming entry-level sedan, the Jaguar XE.
Finished in a vinyl wrap showing the aluminium structure of the car, this image shows that the XE will share many design traits with the larger XF.
Recently we learnt that the Jaguar XE will be available with the supercharged 3.0-liter V6 engine from the F-Type and F-Type Coupe.
Likely to be utilised in the range-topping Jaguar XE, this 3.0-liter supercharged V6 could be tweaked up from the 380 hp it deliveries in the F-Type V6S to above the 400 hp mark. This would result in a car to truly compete with the brand new BMW M3 as well as the upcoming 4.0-liter twin-turbocharged V8 powered Mercedes-Benz C 63 AMG.
It has already been confirmed by Jaguar that in top-specification, the XE will be able to reach a top speed of 300 km/h (186 mph) and if it does target the M3 and C 63 AMG, then expect a sprint to 100 km/h in the low four-second range.
Elsewhere, entry-level versions of the Jaguar XE will be available with a four-cylinder petrol engine and possibly, a four-cylinder diesel. Furthermore, the XE will be Jaguar's first production car to utilise the new advanced aluminium architecture first showcased on the C-X17 Concept last year.