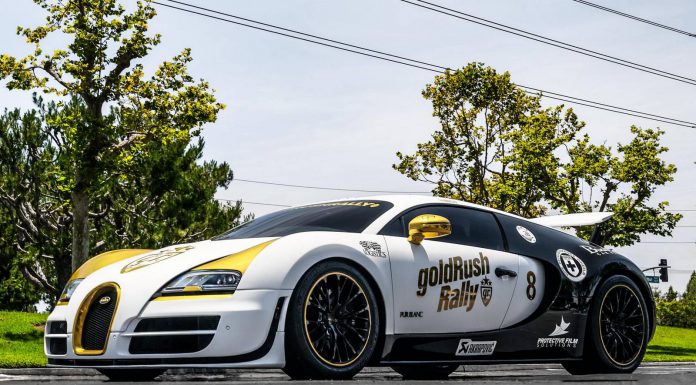 In the world of Bugatti Veyrons, few are as recognisable or notable as America's unique Veyron Super Sport Pur Blanc. Commissioned by a well-known local car collector, the car has been coined 'Panda' thanks to its white and black paint scheme. For GoldRush Rally 7 kicking off tomorrow however, the French hypercar has been installed with a special livery.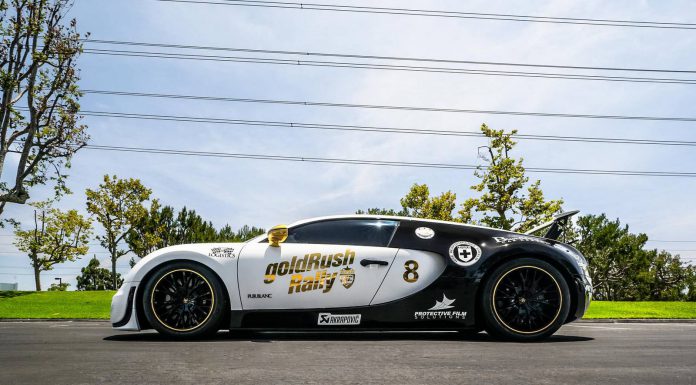 While many other entrants in GR7 feature completely unique wraps, the visual changes to Panda are more subtle. The front-end is undeniably where all the action is happening with gold chrome now featured on the Veyron's famous horseshoe front grille. A gold GR logo has then been installed onto the bonnet alongside two prominent gold accents on the bonnet.
Elsewhere, Panda now features gold chrome outer rims on the wheels, golden wing mirrors and a gold rear EB logo.
GR7 is scheduled to take place from June 5th to June 13th starting in San Diego all the way to Miami. The Goldrushers will leave San Diego on June 5 with their first stop scheduled for June 6 in Las Vegas. They will then proceed to Sedona in Arizona on June 7 before completing the first leg of the rally on June 8 in Santa Fe, New Mexico.
The second leg of the rally will kick off in Austin, Texas where participants will spend two days – June 9 and 10. NOLA will probably be the best of all stopovers with drivers arriving there on June 11. From New Orleans they will proceed to Jacksonville, Florida on June 12 before completing the rally in Miami on June 13.