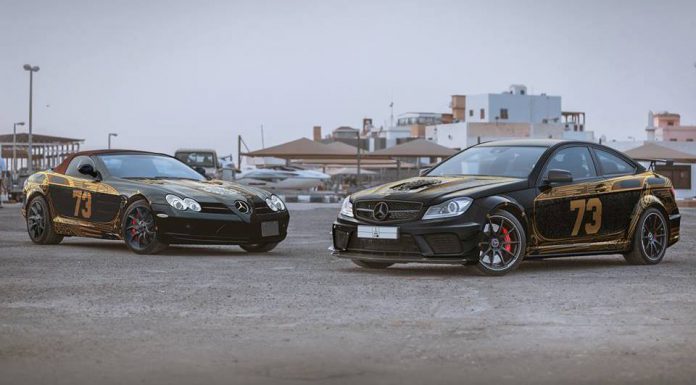 Year in, year out, Team Galag brings with it some of the most incredible cars to the Gumball 3000 rally. Last year, they used a McLaren P1, Batman Tumblr, Wiesmann GT MF5 and a classic Shelby Daytona and now Team Galag has confirmed for the 2015 edition, they'll use both a Mercedes-Benz C63 AMG Black Series and a Mercedes-Benz SLR McLaren Roadster.
The C63 AMG Black Series will be used for the European leg of the journey while the SLR Roadster will take over driving duties when Gumball reaches U.S. shores. In typical Team Galag fashion, its two entrants feature bold wraps which this year incorporates gloss and satin black as well as gold and silver elements.
In case you didn't know, the 2015 Gumball 3000 rally starts in Stockholm and will pass through Oslo, Copenhagen and the Amsterdam before the cars are flown to Reno in the United States. From there, entrants will drive through San Francisco and Los Angeles before arriving in Las Vegas.