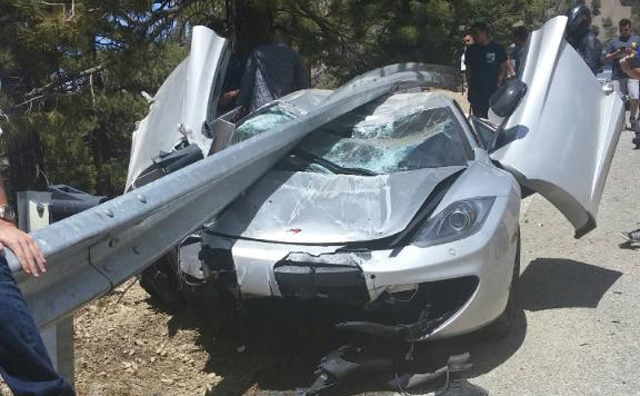 A silver McLaren 12C has been absolutely destroyed after crashing into a guard rail.
Details about the crash are scarce but based on the pictures, it seems that the British supercar made contact with the guard rail at relatively high speed. The images also reveal that the crash occurred on a canyon road with the guard rail stopping the 12C from tumbling down an adjacent cliff.
As for the damage sustained to the 12C, the word comprehensive only begins to describe the carnage. Due to the low profile of the 12C, its front end slid under the guard rail meaning most of the impact was taken by the bonnet, windscreen and roof. Consequently, these elements have been completely destroyed from the crash.
Further damage has been sustained to the passenger side while the front and rear bumpers are also worse for wear. As a testament to McLaren's carbon fibre MonoCell monocoque however, the cabin seems relatively untouched.
The exact condition of the driver remains unclear but it can be confirmed there were no fatalities.