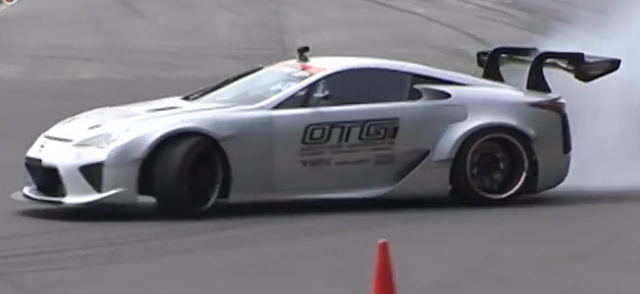 A new video of one of the world's craziest and most expensive drift cars has been posted with it once again showing Japan's own NASCAR powered Lexus LFA ripping up the tarmac in a display of just what it's capable of.
[youtube]https://www.youtube.com/watch?v=qU94h9tPAPM[/youtube]
The car has been created for professional drifter Yoichi Imamura for the 2015 Japan D1GP season. The high-revving 4.8-litre V10 typically found in the Lexus LFA has been replaced with a TRD NASCAR V8 engine tuned to reportedly deliver almost 1000 hp at the rear wheels. When mated to a quick shifting dogbox, it is little surprise why Imamura loves driving this beast so much!
As for any readers out there who think it is a crime to turn a Lexus LFA into a drifter like this one, know this. According to reports, this LFA was actually flood damaged and destined for the scrap yard before it was given an engine transplant and a second lease on life.