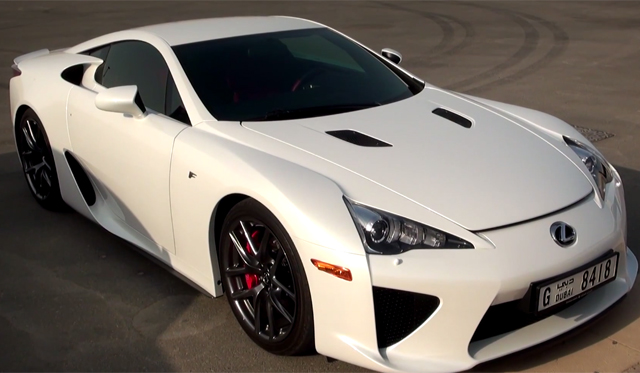 For a company's first try at creation a supercar, the Lexus LFA is a real triumph of Japanese ingenuity and engineering prowess.
The engine powering the Lexus LFA is a race-derived 72-degree V10, displacing 4.8 liters and producing a peak power of 552hp at 8,800rpm. The maximum is a thrilling 9,000rpm. Peak torque is 354lb-ft at 6,800rpm with 90 percent available between 3700 and 9000 revs. Pushing the throttle and revving from idle to peak is done in just 0.6 seconds.
[youtube]http://www.youtube.com/watch?v=5qitglNfgo4[/youtube]
To ensure proper weight distribution the engine is placed at the front, but as low and rearward as possible. Same goes for the oil and water pumps. On the other end of the car you will find a rear-mounted six-speed manual transaxle gearbox controlled via steering-wheel paddles and linked to a Torsen limited-slip differential. The shift paddles are symmetrical and calibrated such that downshifts require more effort than upshifts. All of this results in a 48/52 front-to-rear weight distribution and a center of gravity that sits just behind the steering wheel.
While at the Dubai Autodrome, 4Wheelsoflux was able to capture the following stunning drive-by shots of the Lexus LFA with it flying past the camera at over 200km/h on numerous occasions. It really is music to our ears!