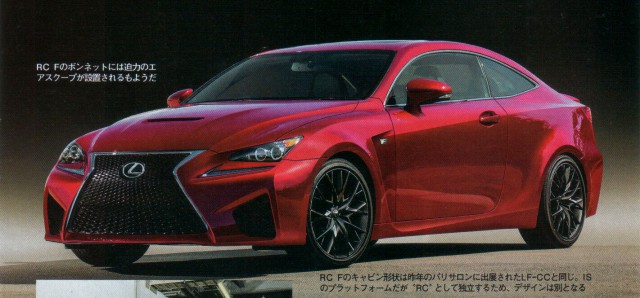 While the upcoming 2014 BMW M4 certainly promises to be a real performer with its 424hp 3.0-liter twin-turbo inline-six, Lexus is planning a rival dubbed the Lexus RC F Coupe. The Lexus RC F Coupe has been spotted testing numerous times in recent months and images and just been captured from a Japanese car magazine reportedly showing the finished product.
These images are said to be scans from the magazine which somehow got its hand on the very first official images of the car. Whether or not these images are the real deal, the Lexus RC F Coupe will inevitably draw heavily on the revised Lexus IS in the styling department. Most notably, it'll feature Lexus' new trademark grille as well as the company's revised headlights.
The Lexus RC F will receive a speed-sensitive rear spoiler like the Lexus LFA as well as other aerodynamic tricks utilised in the LFA to help it achieve a top speed in excess of 186mph!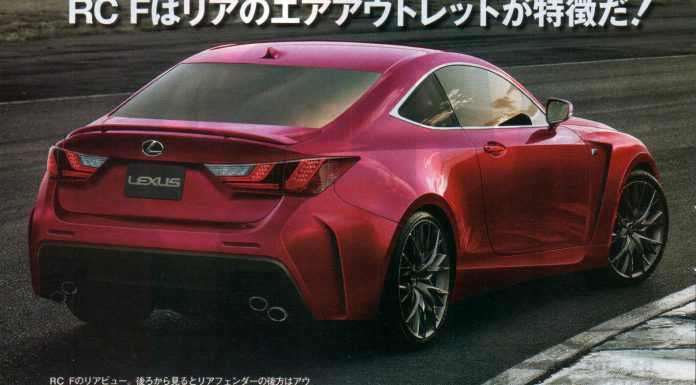 Powering the 2014 Lexus RC F will be a 5.0-liter V8 engine producing 455hp at 6,800rpm and 401lb-ft of torque at 5,200rpm. To help the Lexus RC F clear Euro-6 emissions regulations, Lexus will employ cylinder deactivation technology where four-cylinders will be shut down during highway driving. Mated to this 455hp V8 engine will be an eight-speed automated manual transmission featuring paddle shifters and three different driving modes: Normal, Sport and Snow.
The 2014 Lexus RC F is expected to debut at the Detroit Motor Show 2014 in January next year ahead of a September 2014 sale date.
[Via Best Car]