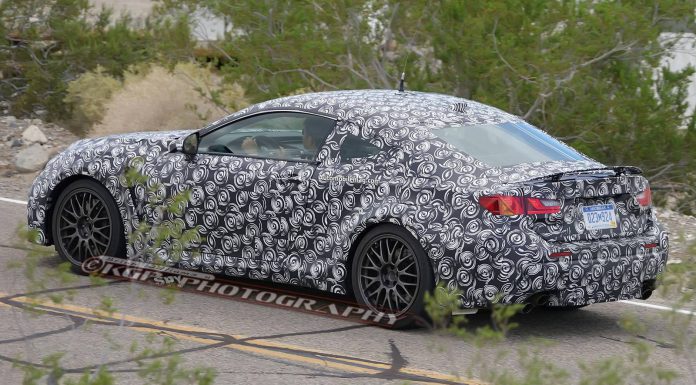 The upcoming 2015 Lexus RC-F coupe has been spied testing yet again, this time undergoing high-temperature testing in Death Valley!
First and foremost, the styling of the 2014 Lexus RC-F is set to be inspired by the Lexus LFA and the car is predicted to cost north of $100,000 in the U.S. However, upon reading some of the specs of the Lexus RC-F, that high price tag can be justified.
To keep the car as lightweight as possible, the 2014 Lexus RC-F coupe will featuring a carbon fiber hood, roof and trunklid with a small hood scoop expected to be utilised to help increase downforce. Additionally, the 2014 Lexus RC-F will receive a speed-sensitive rear spoiler like the Lexus LFA as well as other aerodynamic tricks utilised in the LFA to help it achieve a top speed in excess of 186mph!
Powering the 2014 Lexus RC-F will be a 5.0-liter V8 engine producing 455hp at 6,800rpm and 401lb-ft of torque at 5,200rpm. To help the Lexus RC-F clear Euro-6 emissions regulations, Lexus will employ cylinder deactivation technology where four-cylinders will be shut down during highway driving. Mated to this 455hp V8 engine will be an eight-speed automated manual transmission featuring paddle shifters and three different driving modes: Normal, Sport and Snow.
The 2014 Lexus RC-F is expected to debut at the Detroit Auto Show in January next year ahead of a September 2014 sale date.
[Via Automobile Magazine]