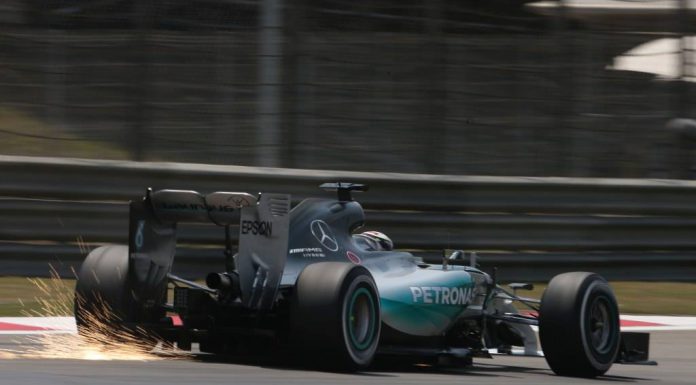 Lewis Hamilton has done it again for Mercedes-AMG winning the 2015 Formula 1 Chinese Grand Prix after dominating the entire race. Teammate Nico Rosberg sealed a 1-2 finish for the team after running steadily behind his teammate throughout the race. Ferrari's resiliency saw them finish in a row behind Mercedes, with Sebastian Vettel in third and Kimi Raikkonen in fourth. The race ended under the safety car when Max Verstappen's Toro Rosso came to a halt with only two laps left.
The race started smoothly with Hamilton leading Rosberg and Vettel in third. Ricciardo had a messy start and fell back quickly to the bottom of the field before Turn 1. Force India's Nico Hulkenberg pulled out of the circuit in lap 10 with a gearbox issue just in time for the first round of pit stops. Vettel pitted from P3 as Hulkenberg's car was recovered and back to the race again. Hamilton also pitted for new softs claiming they were lasting really well and he rejoined the race in third only to take the lead back shortly after.
Daniil Kvyat was the first retirement of the day as he pulled off the circuit at Turn 6 in a smoking Red Bull. Halfway through the race Hamilton was still leading with a comfortable margin away from a hungry pack comprising of Rosberg, Raikkonen and Vettel. Hamilton pitted for medium in lap 34 and rejoined behind Raikkonen who had taken the lead momentarily. The Briton was back in the lead again, Rosberg behind him while Vettel sliced Raikkonen for second.
Behind the leaders was a field full of interesting interactions with McLaren showing significant improvement. Jenson Button was the quickest man for McLaren playing around P14 with Fernando Alonso right behind him in P15. Marussia cars were running at the bottom 1 lap behind the leader. Elsewhere Sergio Perez gave Force India a strong position in the field, running eighth before pitting for the mandatory medium tires.
A yellow flag was shown in Lap 50 after Lotus driver Pastor Maldonado made contact with Button at Turn 1 and the Venezuelan was forced to retire. His teammate Grosjean was running strong in P7 on the verge of claiming his first points of the season.
Practice and Qualifying Report
Mercedes-AMG Petronas took charge again in China with Hamilton and Rosberg kickstarting the free practice sessions by setting a series of quickest times. Hamilton opened FP1 by dominating the timesheets with a flying lap of 1m 39.033s while Rosberg's time of 1m 39.574s placed him in second place. At one point, Rosberg was leading the field while Hamilton was far behind in 20th place, it took the Briton one flying lap to set things right.
Elsewhere, Ferrari continued to show resilience and managed to finish in a row behind Mercedes with a 1 second tearing them apart. Vettel finished with a best time of 1m 40.157s while teammate Raikkonen was fourth fastest on 1m 40.661s. Nasr completed the top five in the Ferrari powered Sauber car. Marussia managed to complete this session without major difficulties.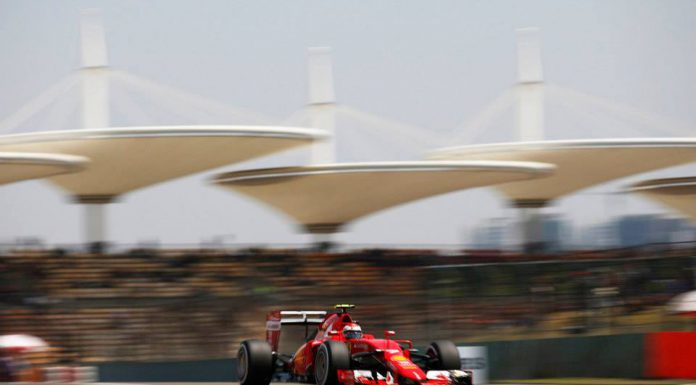 FP2 took place under high temperatures in the afternoon, where three different teams emerged fastest in the end. Hamilton stuck in the lead to set the fastest time on 1m 37.219s leading Ferrari's Raikkonen whose best time was 1m 37.662s. Red Bull surprised when Ricciardo set the third fastest time with 1m 38.311s. Vettel followed in fourth leading Rosberg after a difficult run on softs. McLaren also surprised when Jenson Button set the 10th fastest time of the session.
FP3 was a repeat of FP1 where Hamilton lead the field to set the quickest time ahead of teammate Rosberg in the second Silver Arrow. The Briton's time of 1m 37.615s was just a quarter of a second over Rosberg's 1m 37.841s. They finished 1m 38s ahead of Ferrari's Vettel and Raikkonen. Red Bull's Ricciardo and Daniil Kvyat finished in fifth and sixth places respectively. Fernando Alonso failed to record a time in this session as his McLaren stalled with a mechanical problem.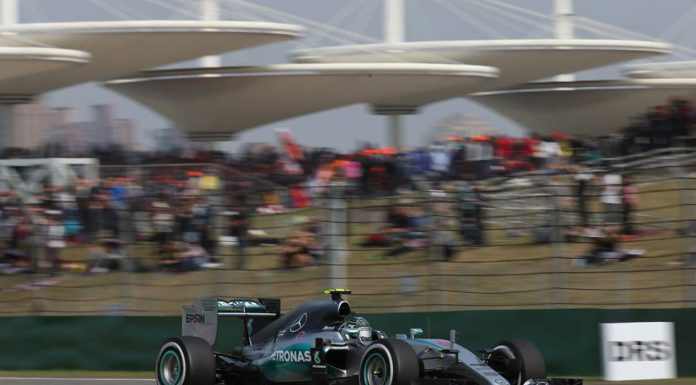 Qualifying was dominated by Mercedes-AMG with Hamilton claiming pole while Rosberg helped him lock the front row for the 2015 Formula 1 Chinese GP. They managed to set quicker times than Ferrari, leaving a 1m 37s barrier that remained unbroken. Even so, Ferrari did not find it easy to claim third place as Williams Felipe Massa nearly denied them that opportunity.
Running on soft tires, Ferrari was fastest in Q1 after Vettel set a time of 1m 37.502s from Raikkonen's 1m 37.790s. Hamilton was running on medium compound tires and finished in fifth. The Briton was quickest in Q2 while Rosberg finished close behind him. The Mercedes duo went even faster during Q3 with Hamilton taking pole after a commanding 1m 35.782s run. Rosberg was second while Vettel outran Massa to take third, Williams second car was put in fifth ahead of Raikkonen by Valtteri Bottas.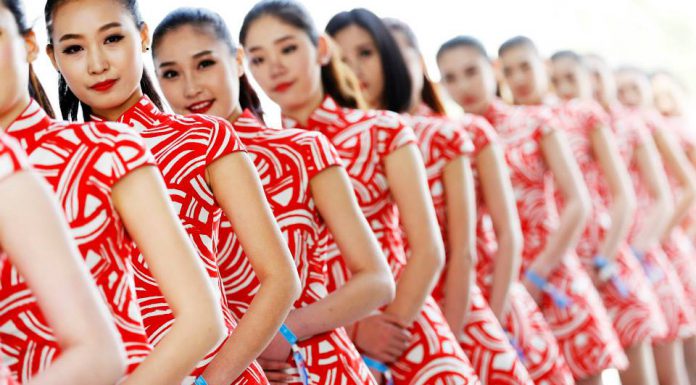 Round 4 of the 2015 Formula 1 season will head over to Bahrain on April 19th.