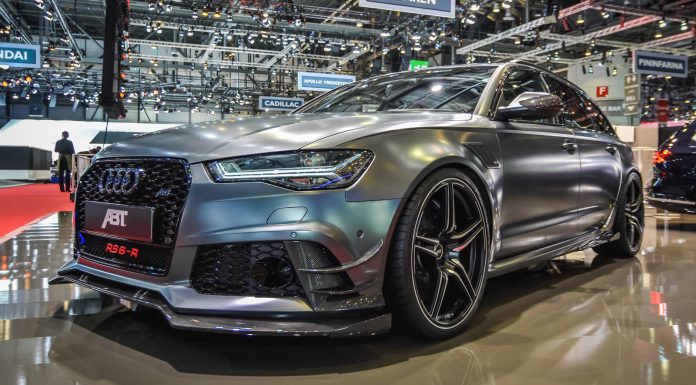 ABT have a Daytona Grey ABT RS6-R on display at the Geneva Motor Show 2015. The ABT RS6-R was actually unveiled at last year's Geneva Motor Show, it returns this year with a series of updates. We took a closer look at this high-powered estate car!
The ABT RS6-R gets the same 4.0 litre V8 biturbo powerplant as the standard model. Power is up to 730 hp using the ABT Power S performance package. The increases are acheived through a reconfigured ECU chip and a new stainless steel exhaust system.
The car features a wealth of carbon fibre components. These include the RS6-R front lip with its blades and the air inlet trims including flics, the side skirt add ons with side blades and the rear skirt. The mirror covers, fender inserts and rear spoiler complete the ABT RS6-R and the fantastic matte grey paintwork really sets it off.
ANT are also debuting their new 22 inch FR alloy wheels. They get a black corpus and front-polished double spokes with high-performance tyres by Dunlop. The final part of the package is a height adjustable suspension spring set which brings the RS6-R closer to the ground. Interior solutions are also available.

For all the latest from the Geneva Motor Show 2015, take a look at our dedicated news feed or follow us on Facebook, Twitter, Instagram or Google+.