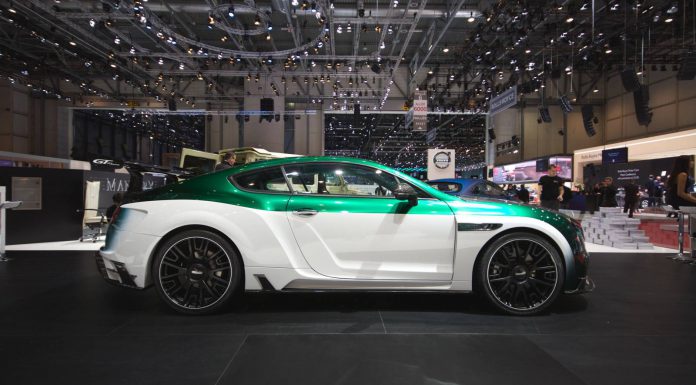 Another of Mansory's releases for the Geneva Motor Show 2015 is the Mansory Continental GT Race. The German tuning company have obviously seen the new Bentley Continental GT3 and decided they can do a better job! We took a closer look at the car on the stand.
Mansory have made changes to the bodywork, engine and interior of the Bentley Continental GT. In many ways, this sort of tuning points back to the Bavarian company's roots as a tuner of British cars. The new design elements include an the ultra light exposed carbon fibre hood and a new front bumper with integrated daytime running lights.
Mansory Continental GT Race at the Geneva Motor Show 2015
We are told that the car is now a full 70 mm wider thanks to the fender flares. The doors are brand new, as are the side mirror housings and the side skirt. At the rear, the new rear bumper incorporates an aggressive diffuser and a GT3-style rear wing. All parts are constructed from carbon fibre and can be delivered with an exposed finish.

As has been a more recent trend with Mansory models, the Mansory Continental GT Race gets performance upgrades too. Mansory have added a high performance exhaust system, new pistons, connecting rods, camshaft, turbocharger, intercooler, a new engine management system and a sport air filter with higher air flow.
The result is a peak output of 725 hp at 6,000 rpm compared to the series output of 567 hp at 6,000 rpm. Torque rises from 700 Nm up to a staggering 1,200 Nm at 2,100 rpm. Maximum speed is now 330 km/h whilst the Mansory Continental GT Race will accelerate from zero to 100 in 3.9 seconds. The Mansory Continental GT Race gets a set of bespoke rims with wheel-tire size combinations of 10×22 inches and 295/30ZR22 tyres.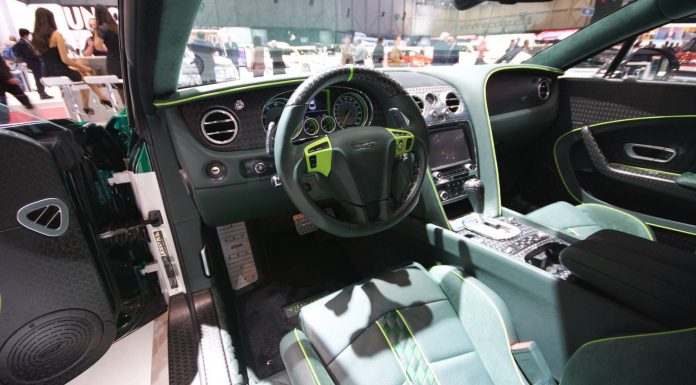 Inside, Mansory fit a new interior upholstered in the finest leather, Alcantara, and green coloured carbon fibre. Mansory also offer a set of of carbon fibre sports seats, a new airbag equipped sports steering wheel and aluminium pedals.
For all the latest from the Geneva Motor Show 2015, take a look at our dedicated news feed or follow us on Facebook, Twitter, Instagram or Google+.