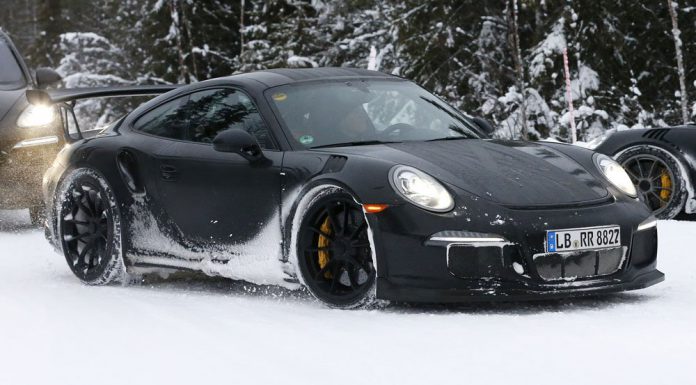 An official document revealing the specifications of the 991-generation Porsche 911 GT3 RS has leaked online ahead of the car's world debut at the Geneva Motor Show 2015.
The document reveals that the new Porsche 911 GT3 RS will make of a brand new 4.0-litre flat six-cylinder engine. This confirms previous rumours that a new engine was being developed rather than an uprated variant of the existing 911's 3.8-litre unit. Unlike that engine, the new 4.0-litre will rev to 8800 rpm instead of 9000 rpm but it will pump out 500 hp as well as 340 lb-ft of torque.
As predicted, power will be funnelled to the rear wheels exclusively through a seven-speed PDK transmission. The 911 GT3 RS will also utilise large 20-inch wheels at the front and 21-inch shoes at the rear with large 325 section tyres. Elsewhere, the track of the GT3 RS is 36 mm wider than the GT3 with the front of the body 50 mm wider and the rear a total of 30 mm wider.
Elsewhere, a number of weight saving measures will be adopted including a lightweight luggage compartment lid, lightweight roof made from magnesium, a plethora of GT3 RS badges and full bucket seats made from carbon fibre reinforced plastic. Additionally, side air intakes almost identical to those from the existing Porsche 911 Turbo and Turbo S will be featured to provide the car's engine with additional cooling.
[Via Axis of Oversteer]