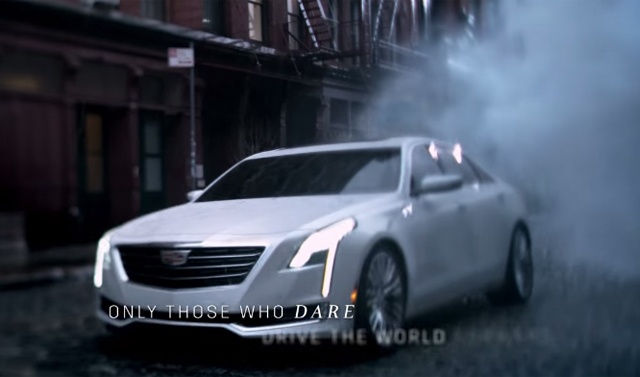 The first image of the upcoming Cadillac CT6 has emerged online as part of the American firm's recently aired Oscars 2015 commercial.
The Cadillac CT6 makes an appearance towards the end of the 1-minute long advertisement and there's simply no mistaking it for any other Cadillac model. It is quite comfortably larger than all other Cadillac's currently being produced and bares an immediate resemblance to recently spied prototypes testing under heavy camouflage. Consequently, there's absolutely no doubting its identity.
[youtube]https://www.youtube.com/watch?v=EGhaOV0BPmA[/youtube]
Generally speaking, the design of the Cadillac CT6 is quite aggressive with Cadillac's characteristic sharp and pointed edges featured across the bodywork. The design of the headlights is also a key talking point with them incorporating a long, vertical strip of LEDs running down towards the front air intakes.
Just a couple of days ago, it was revealed that the Cadillac CT6 will ride on the same Omega full-size RWD platform as the Buick Avenir Concept. The new platform is also said to allow the luxurious American sedan to utilise a nine-speed automatic transmission. When unveiled, the Avenir Concept utilised a 3.6-litre V6 engine and it is also anticipated this powertrain will be made available for the new CT6.
Beyond this engine, a twin-turbocharged V8 is also expected to power select Cadillac CT6 variants alongside a new V8 and possibly even a four-cylinder model.
Production of the Cadillac CT6 will take place at the firm's Detroit-Hamtramck Assembly plant which has just undergone a major transformation as part of Cadillac's $300 million investment into creating the CT6. In total, 205 new robots have been installed alongside a selection of new tooling areas in the new 138,000 square foot shop.
The covers will be taken off the Cadillac CT6 on March 31 ahead of the New York Auto Show 2015 in April.