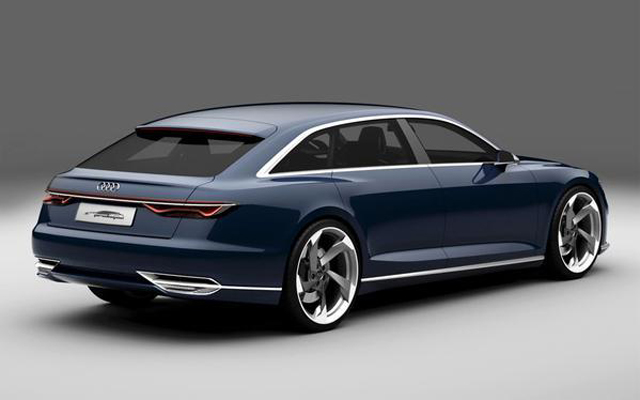 Prior to the official debut of the Audi Prologue Avant Concept at the Geneva Motor Show 2015, a new official image depicting the rear-end of the car has been released.
As the name of the car suggests, the Audi Prologue Avant Concept will be inspired by last year's Prologue designed to preview the new styling direction of the German firm. That basic design will then be combined with an ultra-aggressive and exceptionally sharp shooting brake rear design.
The Audi Prologue Avant will most likely get the same engine as the Audi Prologue Concept we drove in Los Angeles last year. That car packed a 4.0 TFSI V8 engine borrowed from the Audi S8 with 605 hp and 750 Nm of torque. Audi coupled this with a 48 volt electric system with regenerative braking, the benefit being that it could potentially power an electronic turbo.
Inside, the Audi Prologue Avant will likely feature the same innovations. Ideas such as the bendable OLED display fitted behind the gear shifter and the 3D cockpit design which featured a multi-layered dash display. The Los Angeles concept also featured a display on the passenger side which allowed the passenger to submit route guidance, music and entertainment for the driver to review and accept. Expect to see the same for the Avant.
Whatever Audi have planned for the Prologue Avant at the Geneva Motor Show 2015, we're sure it will be incredibly interesting. We will of course be following the show live so make sure you keep checking back for the latest news!