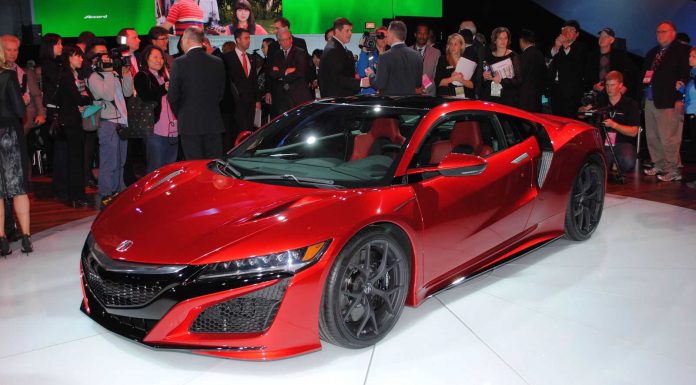 The 2016 Honda NSX is set to become the Japanese marque's most customisable model it has been revealed.
While recently speaking with Edmunds about the car, senior vice president and general manager of Acura, Mike Accavitti said, "The car will offer more factory-installed options than any other vehicle that we have ever had. Today the supercar customer wants to personalise it, wants to make it 'mine,'" he confirmed.
While Accavitti didn't reveal specific details about what customers will have the ability to choose and option, he did say that owners could opt for their NSXs to use carbon fibre throughout the construction rather than aluminium. Additionally, he said that a plethora of track-specific elements will be offered to customers with the second-generation Honda NSX.
Before U.S. sales commence later this year, Accavitti said that dealerships will play a pivotal role in locking in buyers. "The early adopters will know a lot about this car because they have been watching the news," he said.
"They will come in well equipped with knowledge. We will have sales-training classes (for dealer personnel), expose them to the car, talk to them about the competition, talk to them about options so that they can engage with the customer and have a good conversation."
Powering the 2016 Honda NSX is a twin-turbocharged double overhead cam V6 engine mated to a nine-speed dual-clutch transmission and joined with no less than three electric motors. One of those electric motors powers the rear wheels while the other two send power to the front wheels to make the 2016 Honda NSX all-wheel drive. Performance specifications have yet to be revealed nor have horsepower and torque ratings.
Another key utilisation of the new Honda NSX is its Sport Hybrid Super-Handling All Wheel Drive system which includes four different driving modes of Quiet, Sport, Sport+ and Track. When the Japanese supercar is switched between these modes, the engine, electric motors, transmission and chassis will all respond in different ways with Quiet mode seeing the car powered purely by electric power and the other three seeing the electric motors working in conjunction with the V6 engine.
[Via Edmunds]