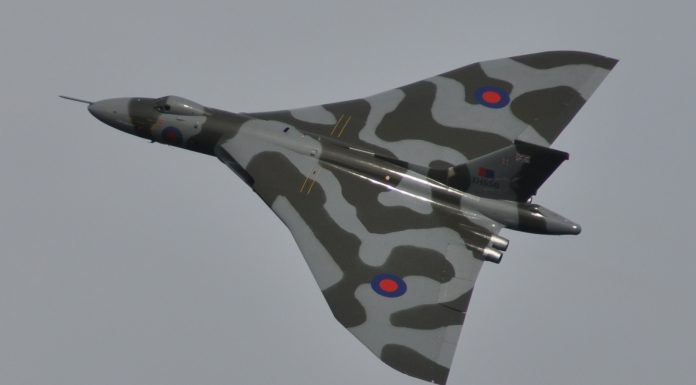 Aston Martin Vulcan: No pictures, just a name, and Aston Martin has started teasing its new supercar to be unveiled at the Geneva International Motorshow. What has been released is a video with thundering soundtrack appropriate for a tribute to a flying icon.
To those who have seen, heard, and felt the ground tremble when the last mighty delta-wing British Vulcan bomber from the Cold War still flying has given displays at events like Goodwood Festival of Speed, CarFest, and many more crowd-pullers, the name can only be an appropriate tribute to the aviation icon once based at RAF Gaydon, now the home of Aston Martin as well as the Motor Heritage Centre.
[youtube]http://www.youtube.com/watch?v=x95aw1mCNcU[/youtube]
An Aston Martin insider said: "It turns out Gaydon was an RAF base which hosted Vulcans – it just felt like the right name for an Aston Martin!" And if they want some more former flying nuclear deterrents they've got Victor and Valiant, for Vantage, Virage and Vanquish have come before from the Aston Martin stable.
But this car we know will not be a James Bond silver screen showpiece but a thunderous hypercar out to take on the likes of the Ferrari LaFerrari FXX K for those with a mega budget who want a blast of ultimate track day action without the restriction of race car build regulations.
And from treats like ice driving events in Colorado, pictured below, we know that Aston Martin is only too pleased to meet the demands of its loyal customers.

Meanwhile the calendar is being drawn up for this year's Vulcan aircraft displays. Aircraft XH558, the world's only flying Avro Vulcan 'V-bomber', is Royal Naval Air Station Yeovilton Air Day's first confirmed flying display participant this summer at the UK base near Yeovil in Somserset.