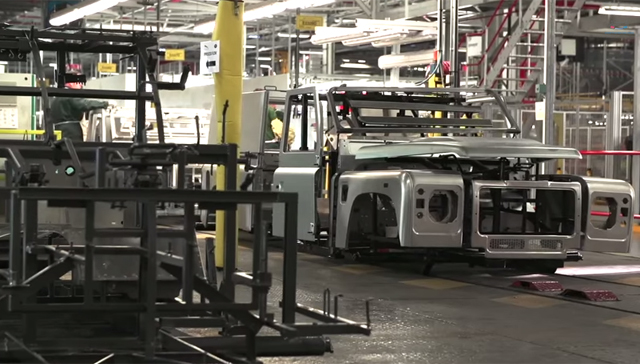 Since 1983, the iconic Land Rover Defender has been produced in the same place. With the outgoing car set to be soon pulled from production however and ultimately replaced, a new video showing the firm's production facility in Solihull has been released.
[youtube]https://www.youtube.com/watch?v=UnU2YDg5Rwg#t=62[/youtube]
As for the new Land Rover Defender, there's a possibility the new design will be kept under wraps until the car debuts. With that being said, some reports suggest that the new Defender could be previewed in concept firm as early as the Geneva Motor Show 2015 in early March. Other shows which could play host to the reveal of the new Defender concept could be the New York Auto Show or Frankfurt Auto Show 2015 in September.
Underpinning the next-gen Land Rover Defender should be the manufacturer's aluminium monocoque used and developed in conjunction with Jaguar. As for power, Jaguar's new inline-four cylinder turbocharged diesel and petrol engines are likely to be available alongside a selection of Jaguar-sourced V6s. As for transmissions, both eight-speed and nine-speed 'boxes have apparently received the go-ahead for production.
Interestingly, it emerged earlier this month that production of the existing Land Rover Defender could be moved outside of the UK for markets outside of Europe.