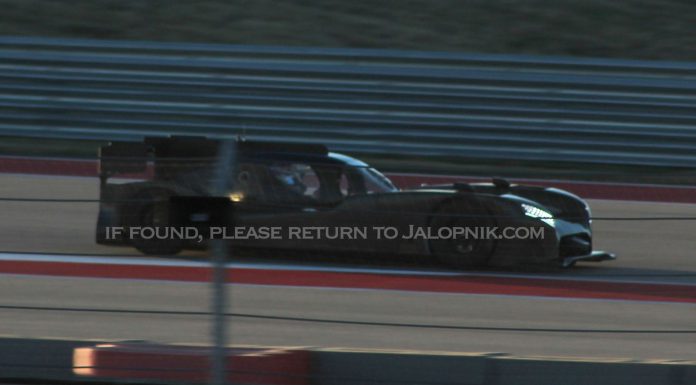 Just before Christmas, Jalopnik released a rendering depicting the upcoming Nissan GT-R LM Nismo set to compete in the 24 Hours of Le Mans. Now spyshots of the racer testing at the Circuit of the Americas in Texas have emerged with this particular GT-R LM Nismo complete with a bare carbon fibre body. The similarities to the rendering released are immediately apparent.
As a result, the shots confirm that the Nissan GT-R LM Nismo will be front-mid-engined unlike the current LMP1 cars from Porsche, Toyota and Audi. As a matter of fact, the GT-R LM Nismo will be the first LMP1 racer that is front-engined since the early 2000s. Beyond the engine layout, Nissan has reportedly designed the GT-R LM Nismo so the front of the car is actually wider than the back. Along with this, there are suggestions that the front tyres are actually wider than the rear ones.
Many of the engineers behind the Nissan GT-R LM Nismo project previously worked on the DeltaWing. As a result, solutions to the inherent disadvantage the GT-R LM Nismo has to its competitors in that an under-floor front wing has been replaced with an engine, are said to be on the cards. Some suggest the heat from the engine could be used for a Formula One style blown diffuser.
As for what is powering the car, that remains a mystery. Some suggest that it could be a Cosworth V6 Formula One engine mated to an electric motor with a kinetic energy recovery system while others claim a 2.0-litre, twin-turbocharged V6 with an all-wheel drive hybrid system is a possibility.
[Via Jalopnik]