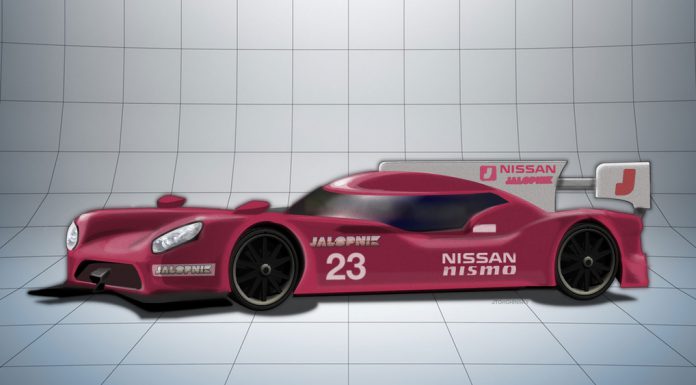 Jalopnik has managed to snag an exclusive image of next year's Nissan GT-R LM Nismo set to battle for the LMP1 championship and compete at the famous 24 Hours of Le Mans.
It is worth noting that this image is simply a rendering created based on what people to have seen the car observed so it may not be 100 per cent correct. One important element which seems correct is that the Nissan GT-R LM Nismo appears to be front-mid-engined unlike the current crop of LMP1 cars from Porsche, Toyota and Audi.
Front-engined Le Mans prototypes haven't raced since the early 2000s and as part of the package, Nissan has reportedly designed the GT-R LM Nismo so the front of the car is actually wider than the back. Along with this, there are suggestions that the front tyres are actually wider than the rear ones.
Many of the engineers behind the Nissan GT-R LM Nismo project previously worked on the DeltaWing. As a result, solutions to the inherent disadvantage the GT-R LM Nismo has to its competitors in that an under-floor front wing has been replaced with an engine, are said to be on the cards. Some suggest the heat from the engine could be used for a Formula One style blown diffuser.
As for what is powering the car, that remains a mystery. Some suggest that it could be a Cosworth V6 Formula One engine mated to an electric motor with a kinetic energy recovery system while others claim a 2.0-litre, twin-turbocharged V6 with an all-wheel drive hybrid system is a possibility.
When initially announcing Nissan's return to Le Mans, former Nissan chief planning officer and executive vice president Andy Palmer said, "We want to win in a very different way to that of our rivals. We won't be turning up in a vehicle which is a basically another hybrid that looks like another Porsche, Audi or Toyota – they all look the same to me – our intention is to do something that is a little bit different.
"Believe me, I think this is the car that will go down in the annals of time and be one of those cars which will be long remembered, not only for the fact that it will have won Le Mans but also that it reset the real meaning of Nismo as a link between success on the track and success on the road."
[Via Jalopnik]