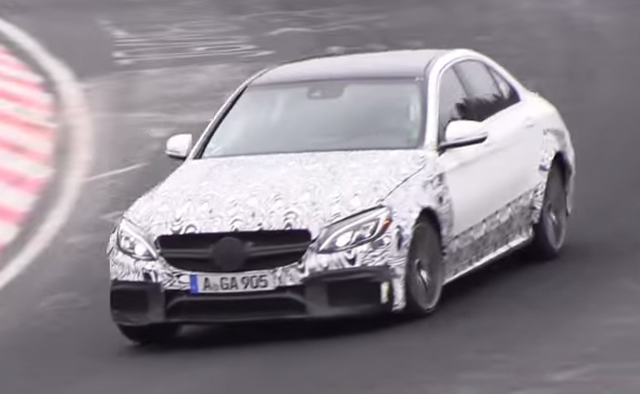 Another prototype of the upcoming, next-generation 2015 Mercedes-Benz C63 AMG has been spied undergoing testing at the Nurburgring in Germany.
Under the hood, we know that the 2015 Mercedes-Benz C63 AMG sedan will feature the same 4.0-litre biturbo V8 engine of the Mercedes-AMG GT albeit in a different tune. Currently codenamed M177, the new 4.0-liter twin-turbo V8 is predicted to produce between 480 hp and an incredible 580 hp depending on what specification is ordered. It will then be mated to the 7G-MCT SpeedShift automatic transmission currently used in a selection of other AMG models.
[youtube]https://www.youtube.com/watch?v=RZixtafDuI4#t=62[/youtube]
While the new Mercedes-Benz C63 AMG is promising to be an incredible car to drive, there is some concern about how it will sound compared to the brutally loud 6.2-litre V8 powered car currently on sale. It will be interesting to see how Mercedes-Benz gets around this.
Visually, the 2015 Mercedes-Benz C63 AMG will receive brand new bumpers which are much more sporty and aggressive than used on existing C-Class models.