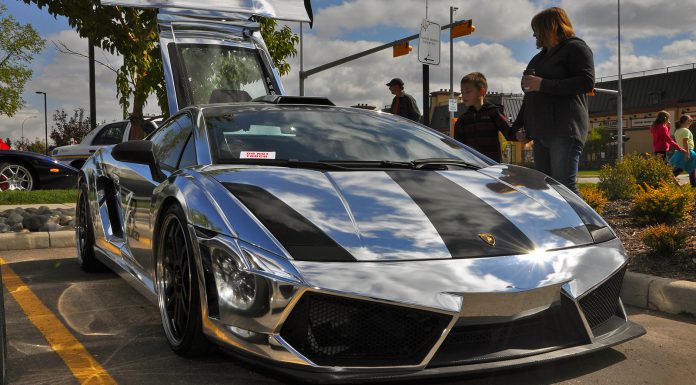 The Quarry Park & Polish is a yearly event hosted by Cardel Homes in Calgary. The event supports Mothers Against Drunk Driving (MADD) and is an opportunity for supercar enthusiasts and owners to get one more chance at participating in a massive car show before the snow falls.
In addition to private owners and vendors, a couple of local dealerships and aftermarket installers were present with a few insane vehicles.
Distinctive Collection, Western Canada's Aston Martin and Bentley dealer, brought the always stunning Top Gear/Jay Leno's Garage Aston Martin Vanquish to the show, which garnered a lot of attention. They also brought with them a black Vantage, immaculate Ford GT and beautiful Lamborghini Gallardo to show off.
Distinctive Collection always has a great array of supercars under their roof, and for them to bring a few of them to the event was very special!
ZR Auto was also in attendance with a few very special cars.The supercar performance shop brought their famed Heffner Twin-Turbo Lamborghini Gallardo with a rare IMSA widebody kit. The car pushes out 1500 hp on 91 octane fuel and 1750 hp on race fuel. The crowd went wild when they saw this chrome-wrapped beast turn up at the show.
Additionally, ZR Auto brought their chrome and shimmer black wrapped Mercedes SL 55 AMG powered by Kleeman. With over 640 hp, this car is a beast as well. Sporting a FAB Design widebody kit, wheels, custom interior and more, the SL also drew in a lot of attention.
A crew of seven customers from ZR Auto also turned up, including a black Audi R8 on ADV.1 wheels, satin white Ferrari F430 on ADV.1 wheels, Porsche 911 GTS, Techart Widebody Porsche 911, blacked-out Eurocharged Ferrari 458 Italia, sinister matte black SLK 350 with every modification imaginable and a white Audi R8.
The show had a fantastic turnout, and with more supercars than one can process in one day. With over $20 Million worth of supercars in one spot, it's safe to say that the supercar scene here in Calgary is only going to keep growing! We can't wait until next year!