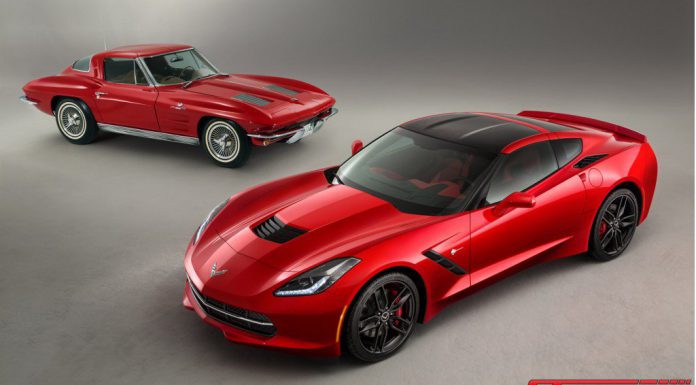 It was confirmed a few months ago that the 2015 Chevrolet Corvette Stingray would receive an advanced eight-speed automatic transmission. Now further details about the gearbox have been released following on from the first press drivers of the 8-speed equipped Corvette.
Compared to the 6-speed automatic, the new 8-speed allows the Corvette Stingray to reach 96 km/h (60 mph) 0.1 of a second quicker with the quarter mile time also being reduced to 11.9 seconds.
Another key reason why the new transmission was adopted was to improve efficiency and it has done just that. The Corvette now has a 29-mpg highway rating which is a 3.5 per cent increased over the six-speed. In fact, the Stingray's fuel consumption on the highway is not only better than sports car competitors such as Porsche 911 Carrera (28 mpg), Audi R8 V8 (20 mpg), Jaguar F-Type R Coupe (23 mpg) and Nissan GT-R (23 mpg), it tops conventional cars with smaller engines, like the Subaru Outback six-cylinder (27 mpg), Volkswagen Passat six-cylinder (28 mpg) and Mercedes-Benz C350 coupe (28 mpg).
The greater performance and efficiency enabled by the available, GM-developed Hydra-Matic 8L90 eight-speed automatic is due primarily to its 7.0 overall gear ratio spread, which enhances off-the-line performance with a more aggressive first gear ratio – 4.56 vs. 4.03 on the six-speed – helping achieve the quicker 0-60 time. It also delivers world-class shift times that rival the best dual-clutch design.
Despite having two extra gears, the eight-speed actually weighs 4 kg less than the six-speed and despite being a single clutch, Chevrolet claims that it actually provides faster upshifts than the PDK transmission from a Porsche 911.
While recently discussing the new transmission, Chevrolet's assistant chief engineer for 8 speed automatic transmissions said, "Corvette Stingray's new eight-speed automatic delivers the comfort and drivability of a true automatic transmission, as well as lightning-fast shifts and the manual control that enhance the performance-driving experience.
"It was designed to enhance the Stingray's driving experience, with performance on par with dual-clutch designs, but without sacrificing refinement."