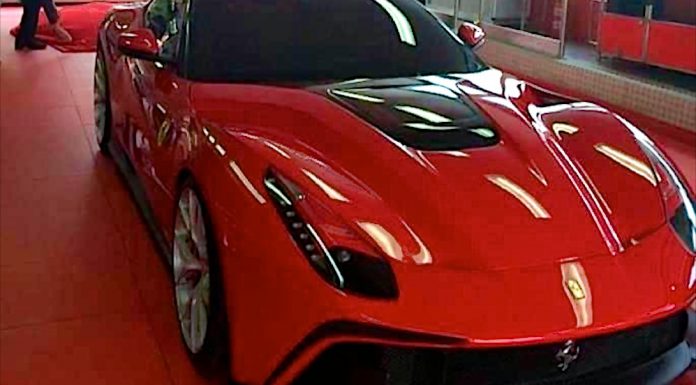 Two photos have been leaked which apparently show a brand new one-off Ferrari; the Ferrari F12 TRS. The photos appear to have been taken at a private event, presumably held for the customer at Ferrari's own Fiorano test facility. A few details have been offered by Jalopnik, including the Ferrari F12 TRS name and a rumoured price tag.
From looking at the photos it seems clear that this particular Ferrari is based upon the Ferrari F12 Berlinetta. As is normal for the Ferrari Tailor Made program, the owner will have been offered the opportunity to build their own car based upon Ferrari's existing model range. The F12 TRS is rumoured to have cost a staggering $4.2 million!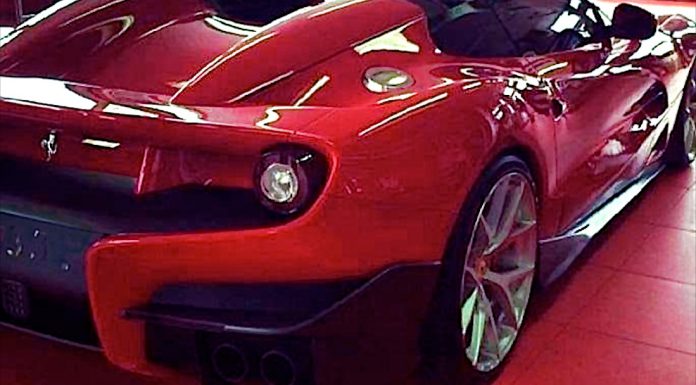 For that price you could presumably own two or three LaFerrari's! Aside from the name and the price, little else is known. We have had a play with the lighting levels in photoshop to see if we can reveal any further details about this unique design.
The almost all of the body panels receive modifications. The front includes a new air intake with slit-style air intakes surrounding the main intake. A new power bulge has been added to the bonnet, although the biggest change is undoubtedly reserved for the roof. The Coupe panel has been completely removed. We are not sure if the roof is an electronic targa top or whether it has been removed completely, speedster style.
Hopefully there will be an official release to shed some light on this interesting machine. It seems to be based upon legendary cars such as the unique Ferrari 250 GT N.A.R.T. Spider. TRS might even be a nod to the classic Testarossa badge.