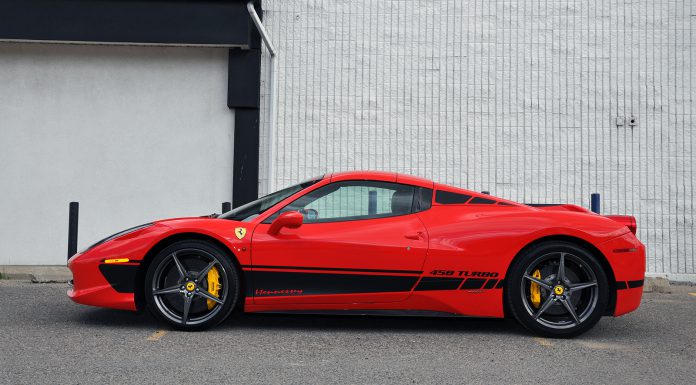 It's back, and even meaner than before! We first learned about this Hennessey Twin-Turbo 458 Italia back in April, when it was still at the Hennessey tuning shop in Sealy, Texas.
The owner, from Edmonton, Alberta, Canada, has been a long-time fan of Lamborghini's, and was skeptical when he was talked into buying his first Ferrari. After having the Hennessey HPE700 twin-turbo package installed, he and his wife drove the car over 2,500km from Texas to Scottsdale, Arizona, and then up to Calgary, Alberta, Canada. Now that's a true break-in road test if you ask us!
The car, commissioned by ZR Auto, is one of only three produced to date. It easily unleashes 700hp at the tap of the gas pedal. The owner is slowly beginning to enjoy his Ferrari. Traditionally driving his green Edo Competition Lamborghini Murcielago LP750-4 SV on road trips, he has now opted to take his Hennessey 458 Italia on an upcoming road rally.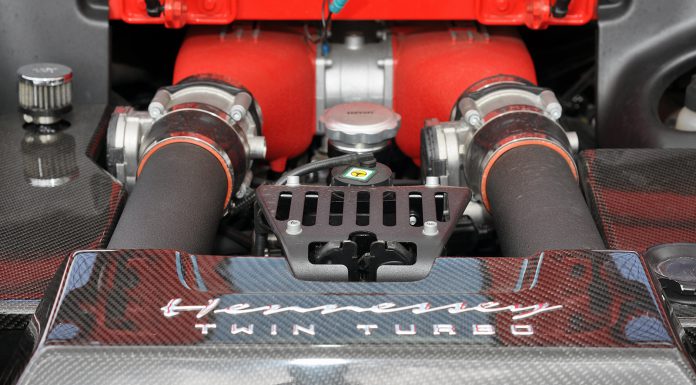 With the aggressive spooling turbos and quick launch off the line, the owner is actually thrilled to be behind the wheel. The car currently waits for the owner at ZR Auto in Calgary, after receiving some maintenance after its long road trip back to Canada. It has also been outfitted with a custom graphics package, and there are talks of a Novitec lowering kit being installed with some aftermarket Novitec wheels.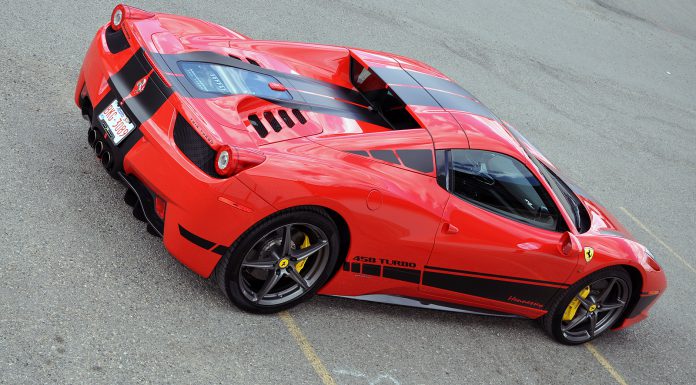 The 458 Italia Twin-Turbo will be participating in the upcoming Area 27 road rally in British Columbia, Canada, alongside 99 other exotics. ZR Auto is bringing a group of 40 cars ranging from the Edo Competition Ferrari F40 LM Spec and gold-chrome Lamborghini Diablo, to a Bentley Continental GT, Lamborghini Aventador and numerous other high-end vehicles.