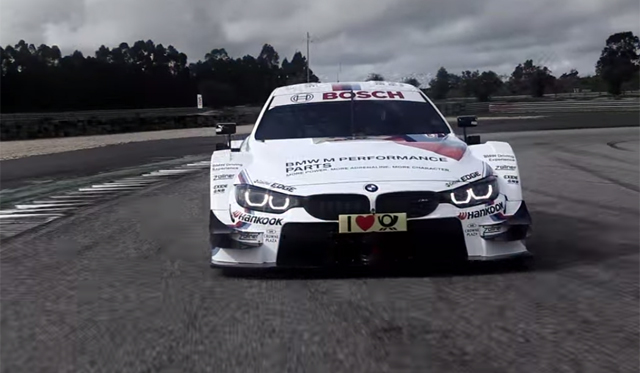 Prior to the 2014 DTM season kicking off on May 4th, BMW has released an epic new promo video of its brand new M4 DTM racer of which multiple examples will enter the epic championship this year.
[youtube]https://www.youtube.com/watch?v=Zp6OVulkqOc[/youtube]
Under the hood, the brand new BMW M4 DTM features a potent naturally aspirated V8 engine. This ferocious powerplant delivers 480 hp and 369 lb-ft of torque with all that power being sent to the rear wheels via a six-speed sequential transmission operated with paddles by the driver. So advanced is this V8 engine that it is made up of 800 different components and over 3,900 individual parts. While DTM cars aren't all about straight-line performance, it is worth mentioning the BMW M4 DTM hits 100 km/h from a standstill in about 3 seconds.
While performance of this engine is a key focus, much attention has also been spent on ensuring its reliability. As a matter of fact, of the eight BMW M4 DTMs which will compete this season, just 10 engines are permitted for all of them. Essentially, each engine has to last the entire season with only two backups available.
While the engine is indeed impressive, aerodynamics continues to play arguably the most vital role in DTM racing. As a result, BMW Motorsport engineers focused on reduce drag while still developing huge amounts of downforce. Inspired by the road-going M4, the M4 DTM features air curtains at the front end designed to reduce drag. Additionally, the car features narrowing air ducts which accelerate the air flowing through the front skirts to reduce turbulence around the wheel arches. While BMW hasn't revealed just how much downforce the M4 DTM produces, know that it would blow you away whatever that figure is.