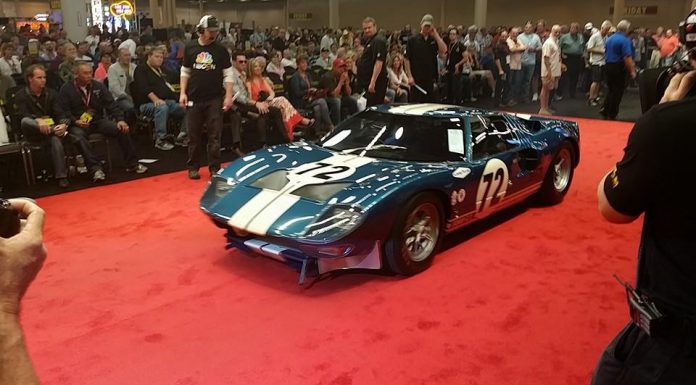 Mecum Auctions took to Houston this weekend for a special auction event. A truly staggering number of collectors cars passed across their auction block between the 10th and 12th April 2014. One of the biggest lots was a 1964 Ford GT40 Prototype which sold for a record price of $7.1 million.
It is the second oldest Ford GT40 in existence. As many know, the Ford GT40 was conceived as a way of exacting revenge against Enzo Ferrari. Rumour spread in the early 1960's that Enzo Ferrari was keen to sell the Italian company to Henry Ford. Ford spent several million dollars trying to make the deal go through, only to have Enzo Ferrari cut the deal at a late stage when a dispute over Indianapolis 500 reared its head.
Eager to get back at Enzo, Henry Ford commissioned the Ford GT40 project in an attempt to muscle into the 24 Hours of Le Mans scene, a race which Ferrari had dominated in those years. Built and designed in England, the Ford GT40 was a massive success, clinching four consecutive 24 Hours of Le Mans victories.
This particular GT40 was the factory team car, a lightweight coupe number GT/104. It travelled to France to compete in the legendary race after just 50 miles of testing. It qualified with Schlesser and Richard "Dickie" Atwood in 8th place and on the first lap, passed the start finish line in first place, yet unfortunately it retired during the race after catching fire on the Mulsanne Straight.
Following the disappointment of its first Le Mans adventure, the car was shipped out to Shelby American, Inc. in Los Angeles to continue development. After some fettling, the car reappeared at the Daytona Continental 2,000 km race where it scored a well deserved 3rd place, behind another GT40 prototype which came in first.
The car left Ford's ownership in 1971 and has since been subject to many restorations, its latest taking place in the hands of GT40 specialist Paul Lanzante. The car is now back to its original Daytona Continental specification.